GoMacro® Annual Give Back Bar…
GoMacro® Annual Give Back Bar® Supports Sheldrick Wildlife Trust
GoMacro® Annual Give Back Bar® Supports Sheldrick Wildlife Trust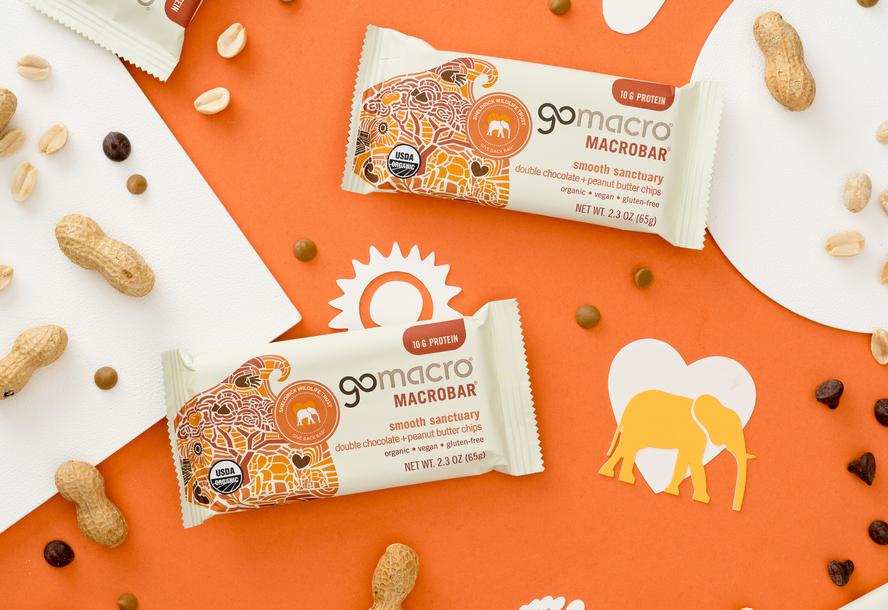 For the fourth year in a row, a portion of net proceeds from August sales of Double Chocolate + Peanut Butter Chips MacroBars® will be donated to the Sheldrick Wildlife Trust (SWT). In alignment with our founding principle of giving back, we're proud to help Sheldrick Wildlife Trust conserve, preserve, and protect wildlife through rescue and anti-poaching initiatives, natural environment safeguarding, community awareness projects, and veterinary assistance all across East Africa.
Protecting Africa's Wildlife and Preserving Habitats
Born from a family's passion for Kenya and its wilderness, the Sheldrick Wildlife Trust was established in 1977 as a pioneering conservation organization dedicated to protecting Africa's wildlife and preserving habitats for the future of all wild species. Best known for their animal rescue and rehabilitation program, the Orphans' Project, Sheldrick Wildlife Trust is dedicated to rehabilitating young animals so that they can one day thrive in the wilderness. However, their work also extends far beyond the Orphans' Project and embraces all measures that complement the conservation, preservation, and protection of wildlife, including:
Aerial surveillance and canine support to monitor illegal activities
Anti-poaching and mobile veterinary units
Wilderness and habitat protection
Community outreach to reduce human-wildlife conflict
...and more
In addition to supporting SWT's efforts with the annual Give Back Bar, GoMacro has also "adopted" a young elephant named Dololo, who was rescued by the trust just outside of Kenya's Tsavo East National Park in 2018. The calf had been abandoned by his herd after falling into a dam overnight with only his trunk raised for breath. Although a report was made immediately upon discovery, he had likely already struggled for several hours by the time of rescue. Despite the severity of the situation and the health complications that followed over the next months, the young elephant made a miraculous and complete recovery! He was given the name Dololo, which honors the region from which he was rescued. Today, keepers note how incredible it is to watch Dololo continue to thrive after his life-threatening experience.
Thanks to the dedication and commitment of Sheldrick Wildlife Trust, and with donations from supporters like GoMacro, all elephants rescued by the trust receive the medical care, nourishment, and enrichment they need to eventually reintegrate into the wild.
How You Can Make a Difference
With each purchase of a Smooth Sanctuary MacroBar® throughout the month of August, you're aiding in Sheldrick Wildlife Trust's important conservation work. Our take on a classic peanut butter cup, the Smooth Sanctuary MacroBar blends protein-rich peanuts, vegan chocolate, creamy organic peanut butter, and our very own house-made peanut butter chips to create a satisfyingly delicious treat.
To purchase our Double Chocolate + Peanut Butter Chips Give Back Bar and help support the Sheldrick Wildlife Trust this August, click here or use our store locator to find a retail location near you.