Enjoy Cherries + Berries Macr…
Enjoy Cherries + Berries MacroBars® to Support the Keep A Breast Foundation
Enjoy Cherries + Berries MacroBars® to Support the Keep A Breast Foundation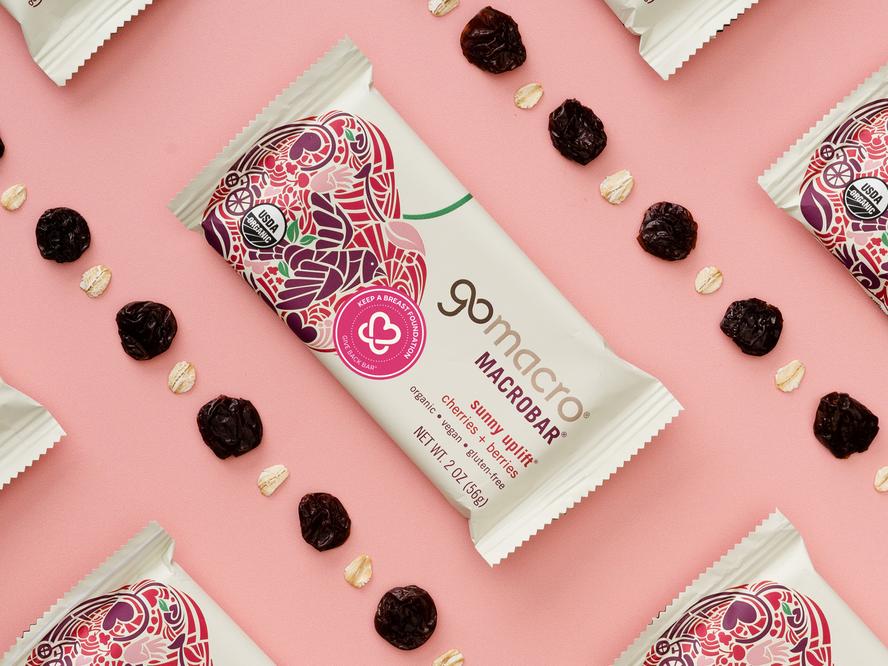 For seven years and counting, a portion of net proceeds from October sales of GoMacro's Cherries + Berries MacroBars® will be donated to the Keep A Breast Foundation in honor of Breast Cancer Awareness Month.
Keep A Breast (KAB) is a nonprofit organization on a mission to reduce breast cancer risk and its impact globally through art, education, prevention, and action. With numerous self-check and prevention resources, as well as unique arts and wellness programs, KAB works to empower youth to become their own health advocates, on their own terms, in their own voice and space.
Our partnership with the foundation is particularly meaningful as our Co-Founder, Amelia, is a breast cancer survivor. In fact, GoMacro® was born from her healing journey; the very first MacroBar recipe was created by Amelia in her family kitchen during the search for a delicious treat that suited her new lifestyle and dietary needs. Because of Amelia's battle and the family's journey, it became GoMacro's mission to inspire others to have a healthy body, sharp mind, and bold spirit.
Fighting Breast Cancer
In support of our mission, we are proud to continue our partnership with the Keep A Breast Foundation for the seventh year. While you might recognize Keep A Breast's iconic "i love boobies!" merch, KAB actually started as a creative organization that merged art and education to help prevent and raise awareness of breast cancer. Today, they offer a wide variety of programs in support of their mission including:
The Keep A Breast App
Users can schedule self-checks through the free app as well as get connected to telehealth medical professionals if they have any concerns.Knowing what is "normal" is crucial for people to know their chests and know when something is wrong.
The Give Back Grant Program
KAB's Give Back Grant Program directly supports BIPOC women who are breast cancer survivors or have been diagnosed with breast cancer with $500 grants in an effort to counteract the injustices and inequalities in the healthcare system.
Fit 4 Prevention
KAB's Fit 4 Prevention program brings together gyms, studios, and fitness communities from across the nation in honor of breast cancer prevention during the month of October. The annual movement promotes fitness and wellness, reducing breast cancer risk while fundraising for KAB's prevention-focused programming.
Educating & Empowering Young People
Keep A Breast takes a unique approach to fighting breast cancer; through her involvement in breast cancer outreach, KAB founder Shaney jo Darden realized that no one was truly reaching young people with breast cancer education and support. She developed a series of educational programs to reach youth "in their comfort zones" - something that existing organizations were not doing at the time.
Today, KAB's model assumes that young people are articulate, critical, and ready to establish their identities through meaningful action. KAB communities are defined by the contributions of young people, and their interactive programs are created to operate on the cultural level of today's teens and 20-somethings.
How You Can Make A Difference
In addition to enjoying GoMacro Cherries + Berries Give Back Bars® throughout the month of October, here are a few other ways you can help support the Keep A Breast Foundation year-round: