Amelia's Gluten Free Shortbread
Prep Time: 25 minutes Cook Time: 7 minutes
Growing up in England, I loved shortbread, and we would sometimes have a tin of Walkers Shortbread at Christmas. Today Walkers Shortbread is one of Scotlands biggest exports. It is made with three ingredients, butter, flour, and sugar and sometimes a little salt is added. My version is gluten-free and vegan and is made with several gluten-free flours, coconut oil, maple syrup, and a pinch of salt.
Ingredients
1 cup almond flour
3/4 cup rice flour
3/4 cup garbanzo bean flour
1/4 cup Arrowroot Starch
3/4 cup coconut oil
1/3 cup + 1 tablespoon maple syrup
1/4 teaspoons salt
Directions
1. Preheat oven to 350 degrees.
2. Mix the gluten free flours, arrowroot starch and salt together.
3. Cut in the coconut oil using a pastry blender or your fingertips.
4. Add the maple syrup slowly mixing it in as you go. You may need to add a little more.
5. As soon as the dough holds together stop, flatten into a round and refrigerate for about 15 minutes.
6. Line a baking sheet with parchment paper.
7. Take out the dough and roll it out to about 1/2" thickness.
8. Cut into squares or use a round cookie cutter.
9. Bake for about 7 minutes. The underside will brown just slightly.
10. Let cool before removing from pan. I often dip mine in chocolate but you can also eat plain.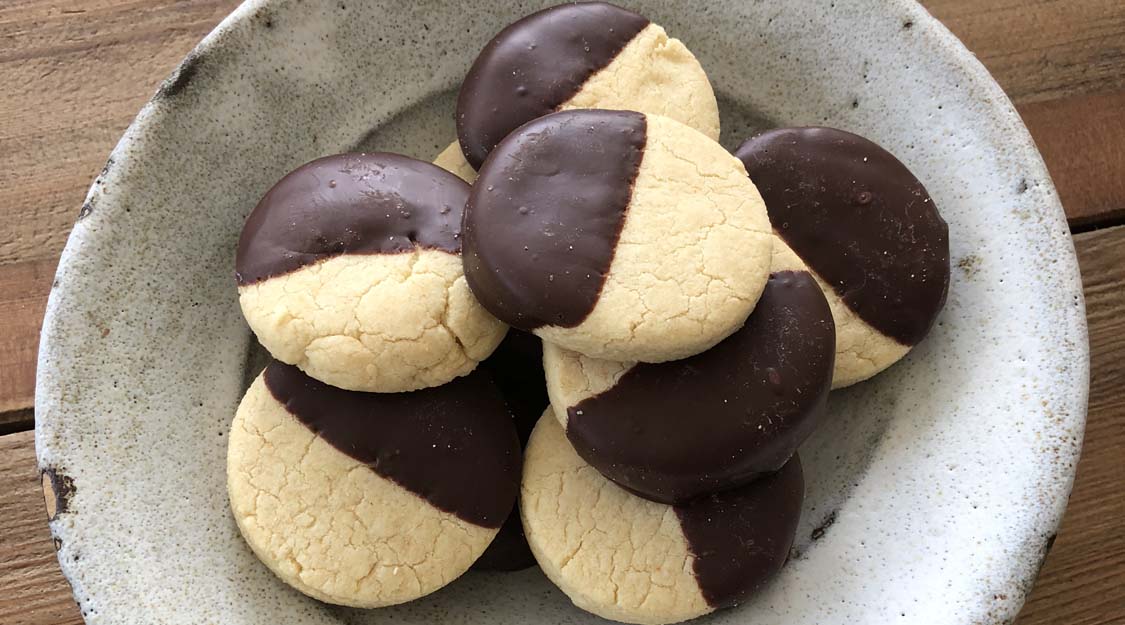 Shop Related GoMacro Products