Amelia's Macro Cookie
Prep Time: 15 minutes Cook Time: 10 minutes
For a good part of my adult life I had very little interest in health and wellness, it was something I took for granted like waking up in the morning. Although I was not interested in nutrition, I had developed a love of gardening from my mother and wanted to grow my own vegetables and fruit. So, I purchased with my husband a 120 acre rundown farm in S.W. Wisconsin and we set about creating a home with a large garden.
Everything went well until the day in early January of 2003 when I went in for what I thought was a routine checkup. There was a small hard lump in my breast. When I saw the radiologist he told me that he thought I might have breast cancer, and the odds were not good. Soon after I was informed that my fears had transformed into my reality. When I learned that I did have breast cancer I experienced so many emotions, from fear and shock to a surreal, dreamlike feeling of "this can't possibly be happening". I felt isolated and confused.The next day I set about researching and looking into my options. I had always been a very thorough reader and I read everything I could find about breast cancer. The China Study, was particularly noteworthy to me. A few days later the biopsy confirmed that I did indeed have breast cancer. Although I moved ahead with a lumpectomy and brachytherapy I continued to research alternative therapies. I did not want to take any toxic drugs. I learned that a five-year regimen of Tamoxifen, the world's largest selling hormonal drug for the treatment of breast cancer, would have destroyed my immune system.
My cancer was estrogen based and I learned that I needed to remove meat and dairy from my diet. I met with Ella, my son-in law's aunt, who had been diagnosed with terminal lymphoma some years earlier and had survived by following a strict macrobiotic diet. I felt I had nothing to lose and decided I would do the same.
I had a wonderful macrobiotic counselor who helped me adjust to my new lifestyle. I completely removed all fat and sugar from my diet, which was no easy task as an avid baker. It was difficult to give up the desserts I had loved and I lost weight. I soon however found myself gaining strength and energy by following my new wellness routine. I learnt everything I could about diet and nutrition and a year later, feeling much better, I then started to incorporate fruit and a few desserts into my diet.
As I began to revisit my love of baking, I knew I had to adjust my recipes to fit into my healthier lifestyle. I used brown rice syrup and maple syrup as sweeteners. I ground up almonds to create an almond flour for a piecrust and blended cashews with water to create cream. The flour I used in my cookies was whole wheat pastry flour. Following macrobiotic principles as much as possible I created my first healthy desserts, a raspberry carob tart and a Pear Ginger Pie using the almond flour.
As you might have guessed, this was around the time my daughter Jola and I decided to go into business together. Our first product, The MacroTreat, was a macrobiotic cookie based on one of my favorite recipes. We soon had a total of six cookies, I tried to use fruit and grains that I grew on the farm, and others that were locally grown when our demand increased. The pastry flour was purchased from Great River Milling, a local supplier.
The Macro Original Coconut & Chocolate MacroTreat was our bestseller. It remains my most popular dessert among family and friends, andI still make them regularly on the farm.My baking is always a work in progress and I always enjoy making changes to my recipes. Although the original cookie recipe used organic wheat pastry flour, it has gone through several makeovers and is now gluten free! I now use my favorite combination of gluten free flours (see recipe below), as well as coconut sugar, maple syrup and coconut oil.
Gluten free baking can be difficult, as gluten is like a glue which holds everything together. Without it, cookies and baked goods tend to crumble. My secret ingredient here is brown rice syrup. I keep it in the refrigerator where it becomes very stiff and sticky and I add it at the end. Just enough to hold the cookie mixture together. *If brown rice syrup is not readily available near you, I have successfully made cookies using an extra tablespoon of oil as a replacement.
I also add a cup of gluten free oats to the recipe, which I put in the blender for about 30 seconds. It's just enough to create a flour with some bigger pieces of oats for a nicer visual appearance. Oats contain a specific type of soluble fiber known as beta-glucan which can lower cholesterol levels, and contains more dietary fiber than any other grain.
So, if you have aspirations for healthy eating and your sweet tooth is getting in the way, you can't go wrong with the following recipe. It is healthy, delicious and full of fiber!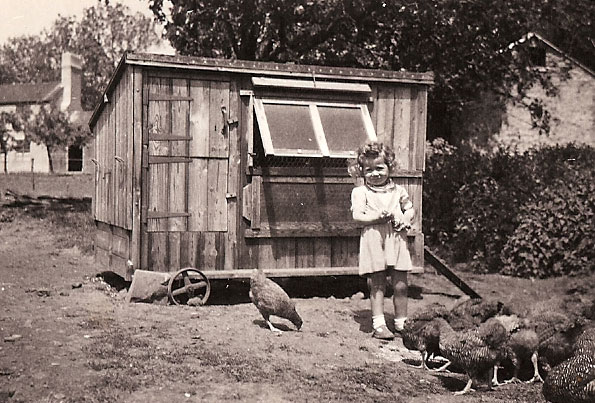 Ingredients
1 cup gluten free oats
1/4 cup garbanzo bean flour
1/2 cup almond flour
1/2 cup rice flour
2 tablespoons baking powder
1/4 teaspoon sea salt
1/2 cup coconut sugar
1/3 cup coconut oil
1 teaspoon vanilla
1/3 cup maple syrup
1/4 cup chocolate chips
1/2 cup chopped walnuts
Brown rice syrup as needed, or 1 extra tablespoon of oil
Directions
1. Preheat oven to 350 degrees. Oil a baking sheet. Blend the oats just enough to retain some of the original texture. Combine the oats with the flours, baking powder, sea salt and coconut sugar. In a separate bowl whisk together the coconut oil, maple syrup and vanilla. Add the wet ingredients to the dry and mix. Fold in the chocolate chips and the chopped walnuts. If the mix is a little dry and crumbly add a tablespoon of brown rice syrup as needed.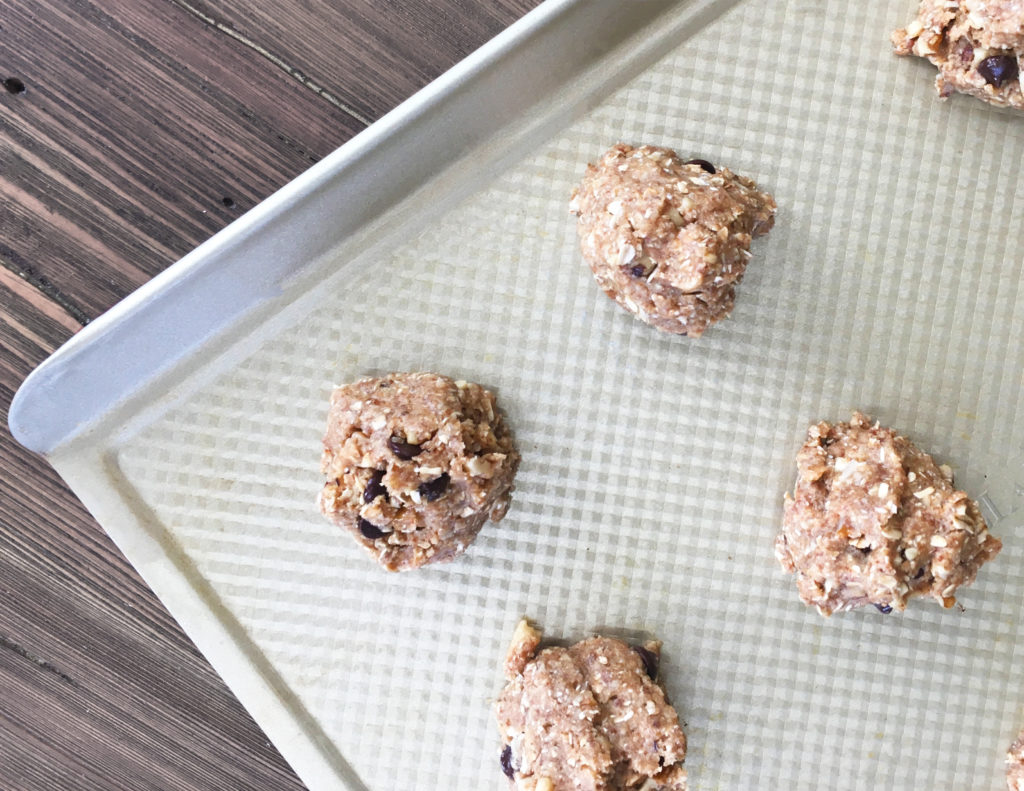 2. Make 12 balls of dough, place on baking sheet and press down to flatten the tops. Bake for eight to ten minutes until browned slightly. Transfer cookies to a rack to cool completely.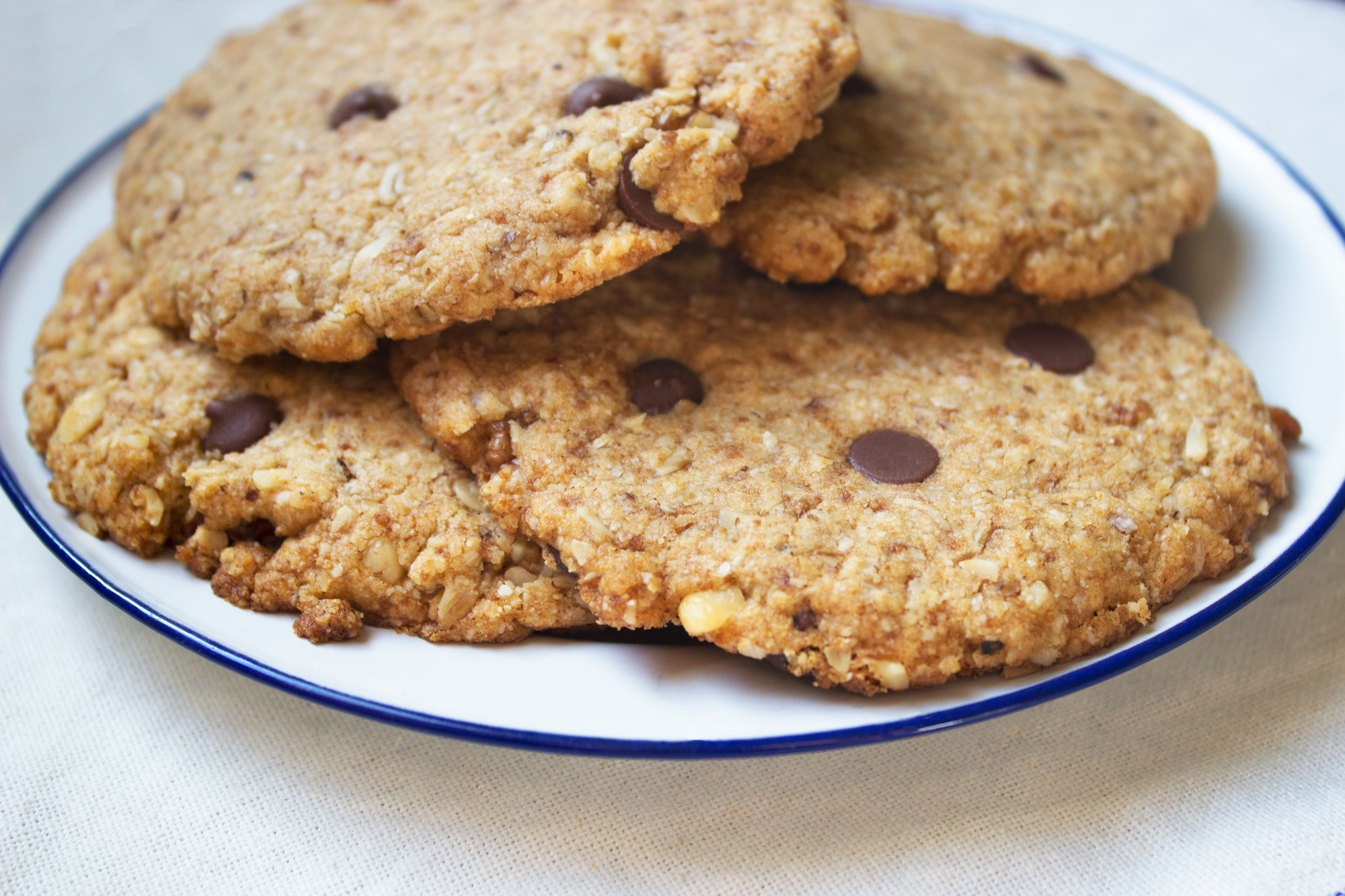 Shop Related GoMacro Products