GoMacro Wins at 2021 MobileWe…
GoMacro Wins at 2021 MobileWebAwards
GoMacro Wins at 2021 MobileWebAwards
GoMacro has been awarded 'Best Food Industry Mobile Website' by Web Marketing Association (WMA)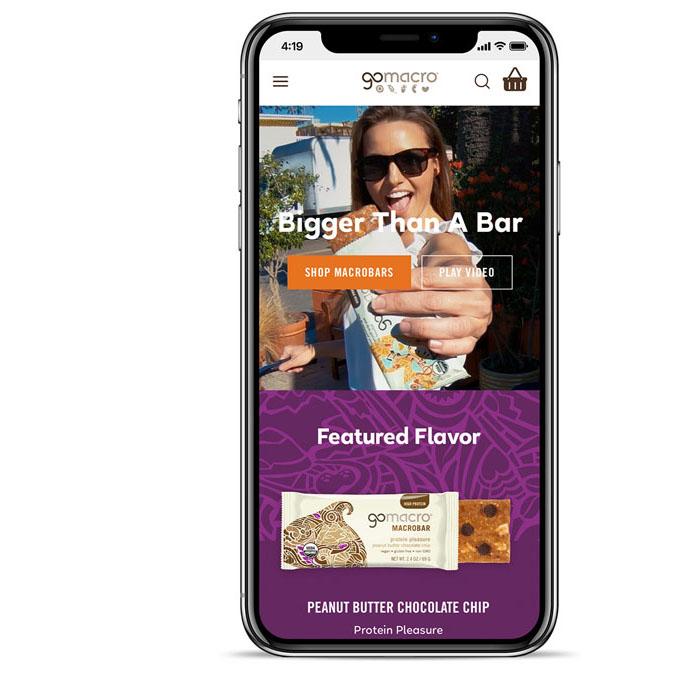 We're excited to announce that GoMacro has been awarded 'Best Food Industry Mobile Website' at the 2021 MobileWebAwards competition. Since 2012, the MobileWebAwards recognize the industry's top work in the mobile world. GoMacro was previously recognized for 'Outstanding Website' in this category in 2020 and is honored to receive the top award in the category for 2021.
Produced by the Web Marketing Association (WMA), the MobileWebAwards honors the top mobile websites in each category. The winners are selected by a panel of top internet marketing, online advertising, public relations, and website design professionals around the country. Websites are rewarded for excellent mobile website design, ease of use, effective information architecture, content, and mobile optimization.
"We understand that creating a positive digital experience, specifically from mobile, is a top priority for our consumers," says Tim Fuhriman, Vice President of Marketing at GoMacro. "We are dedicated to continually optimizing our platform to guarantee a seamless customer journey and ensure GoMacro's core principles speak through our creative digital strategy, content, and unique product offering."
This award is a testament to GoMacro's one-to-one marketing strategy and growing commitment to digital.
About the MobileWebAwards
The MobileWebAwards sets the standard for website excellence by honoring the best mobile sites, responsive websites, and mobile apps. The competition judges all aspects of mobile web and app development and considers different criteria like creativity, impact, design, content, interactivity, ease of use, and use of the medium when determining winners. The judges are experienced professionals with an in-depth understanding of current mobile web development, design, and marketing.