GoMacro Sponsors Beverly Goeb…
GoMacro Sponsors Beverly Goebel : American Professional Soccer Player
GoMacro Sponsors Beverly Goebel : American Professional Soccer Player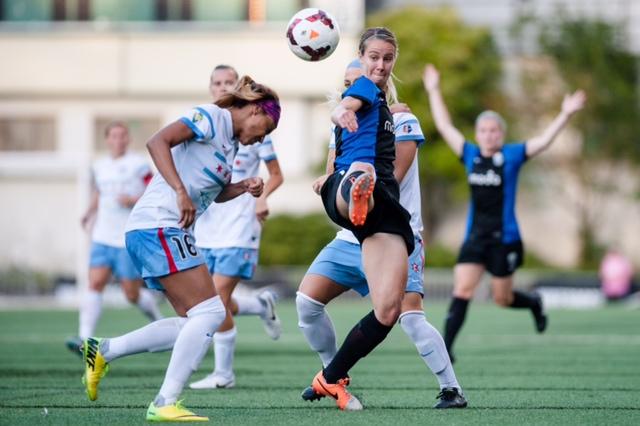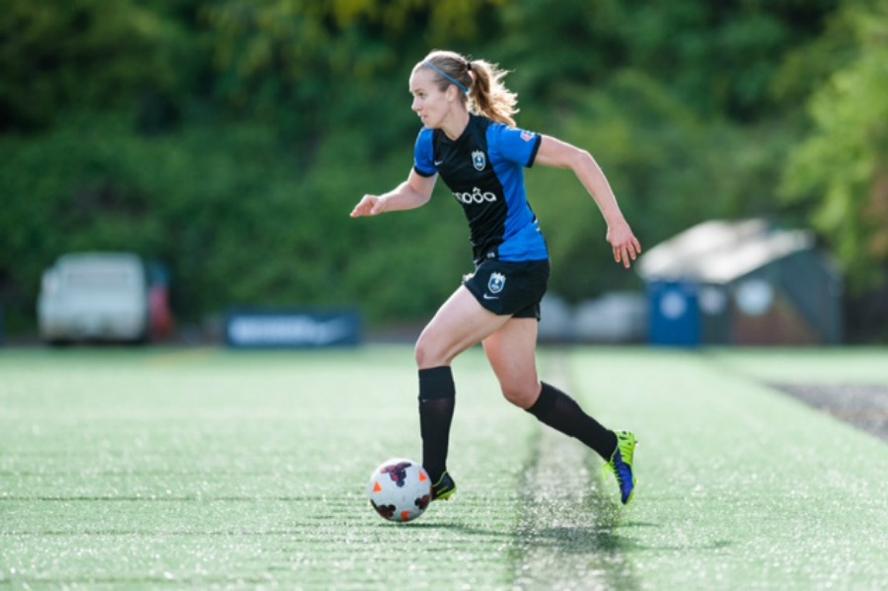 GoMacro is proud to sponsor the pioneering work of American professional soccer midfielder, Beverly Goebel. Beverly says, "I've been fortunate enough to travel the world pursuing a career in soccer that I am very passionate about. GoMacro has helped me to focus on my health while competing. With the amount of time I spend on the road I'm glad to have a healthy bar to keep my nutrition on track!"
At the age of 25, she's had an impressive career, which has spanned the globe, playing in Finland, Japan and here in the United States. Beverly grew up in Moreno Valley, California, where she helped the women's soccer team win the Coast Soccer League and was named both the league's MVP and offensive MVP. By her sophomore year at the University of Miami, she played in all 21 soccer matches, finishing the season third in scoring with four goals and four assists. In her senior year, she was named team captain. Beverly currently plays for the INAC Kobe Leonessa in the Nadeshiko.League and Seattle Reign FC in the National Women's Soccer League.
Beverly's favorite GoMacro flavors are the balanced goodness: granola + coconut MacroBar and morning harvest: apples + walnut MacroBar. As a professional athlete, maintaining a healthy lifestyle is essential to her. She trains for two hours, five days a week, with games on Wednesdays and Sundays. After practice, especially at the beginning of the week when the practices are the most intense, she drinks a protein shake and eats a MacroBar to help her body recover. GoMacro MacroBars are the perfect combination of protein and carbs for a healthy post-workout snack.
Beverly first became interested in health food when she was living and playing soccer in Japan. With tofu being a Japanese staple, she found herself eating it frequently, and was pleasantly surprised to find herself enjoying it. That was also when she realized how much sugar is in the standard American diet. She'd always had a fondness for canned green tea, but what she purchased in Japan was extremely bitter. At first she thought there was something wrong with it, but all the Japanese insisted that it was just regular (unsweetened) green tea. Over a period of time, she became accustomed to it, so much so, that she decided to start reducing the amount of sugar in her diet. That's when she discovered GoMacro MacroBars. Beverly also goes meatless three or four days a week.
Women's soccer history has had some fascinating twists and turns. The Football Association set up in London in 1863 was very male dominated. The scattered competitions between women's teams had to be kept underground, because of opposition from civil and church authorities. The controversy came to a head on Boxing Day in 1920, when Goodison Park in Liverpool agreed to host a competition. 53,000 fans showed up, filling every seat, and another 10,000 had to be locked out due to lack of space. The male dominated Football Association felt so threatened by the quality of the play and the astounding size of the crowd that they set a ban on women playing soccer that lasted for 50 years. Here in the United States, the first professional women's league was just started recently in 2001. This makes Beverly Goebel part of the first generation of American women to play.
As a woman-owned company, GoMacro is particularly pleased to sponsor Beverly Goebel. We hope that this champion will help pave the way in soccer for more female athletes. Go Goebel! GoMacro!