MacroBar Variety Pack
Our MacroBar Variety Pack is a great way to enjoy all of our top-selling flavors.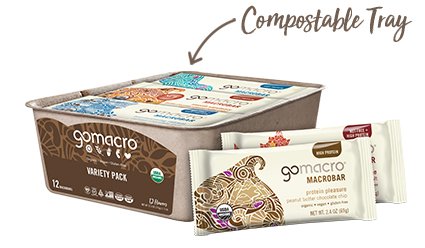 FREE SHIPPING ON ORDERS OVER $50
?

Get Same Day Delivery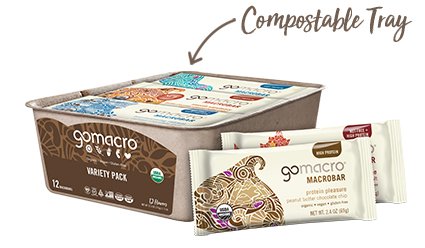 What's Inside
Our variety pack provides the ultimate introduction to MacroBars. Each tray contains 12 of our top-selling flavors: Peanut Butter Chocolate Chip, Double Chocolate + Peanut Butter Chips, Coconut + Almond Butter + Chocolate Chips, Sunflower Butter + Chocolate, Banana + Almond Butter, Blueberry + Cashew Butter, Cherries + Berries, Dark Chocolate + Almonds, Mocha Chocolate Chip, Oatmeal Chocolate Chip, Lemon + Lemon, and Maple Sea Salt.
See Nutrition & Ingredients List
Benefits
Organic
Vegan
Gluten-Free
Kosher
Non-GMO
Clean & Raw
Soy-Free
Dairy-Free
5
Quamii
September 3, 2021
I've been looking for a good vegan bar for so long. I was scrolling by a video on tik tok and saw these bars. When I heard vegan I immediately had to go out and find these bars. I went to my local Hyvee and spotted them so I grabbed one. I sat in my car opening the macro bar anticipating disappointment. Yall when I tell you my eye got so big when I bit into this bar. I couldn't believe what I was tasting and that it was vegan. My taste buds lit up! this is the best bar I have ever had! this is not an exaggeration all the other vegan bars I have tried do not compare to gomacro bars. This will forever be my favorite vegan bar ever and I will let everyone know!
5
Kinsley
July 2, 2021
SO DANG GOOD! I've seen multiple people on social media rave about these bars so I gave them a try a few months ago. The first one I ever got was the protein pleasure; I've also had the smooth sanctuary and heartwarming retreat. My all time fav is the smooth sanctuary. I love these bars bc they are easy on my stomach and really easy to grab on the go. Definitely recommend!
5
Mike
May 4, 2021
Best bar on the energy bar shelf
5
Sydney Nelson
April 16, 2021
I found these through an influencer on TikTok and have LOVED every single flavor I've tried. It's the only protein bar I buy. So so yummy and filling.
5
Diane Satchwell
March 3, 2021
Bought a few bars at our local store and was blown away with how great these bars taste. Very satisfying, delicious and great texture. After consuming the bars immediately went to their website and ordered the variety pack in the regular size bars and minis. Our new hiking and travel snacks.
5
Sara
February 14, 2021
We never go without out Macro bars. My 7 yr old eats the kids macros every morning. They are a staple in our house.
5
Julie z
February 10, 2021
Delicious! Perfect for my in office snack, holds me over between clients. Also the perfect pre workout snack. I got the variety pack and I've loved every flavor so far
5
Cathy
September 15, 2020
Ordered the variety pack and all of the flavors are great! Enjoy the mix of chocolate and fruit and they are very satisfying. High quality product at a reasonable price. Will definitely have these bars in my pantry at all times!
5
Sam Cutler
September 7, 2020
Delicious variety of flavors. Texture is perfect at being not too crunchy, not too chewy.
5
Sara
September 6, 2020
Gomacro are the absolute best bars, my husband even loves them.