MacroBar Variety Pack
Our MacroBar Variety Pack is a great way to enjoy all of our top-selling flavors.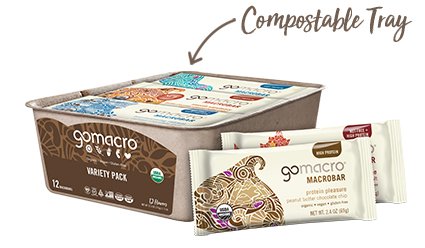 FREE SHIPPING ON ORDERS OVER $50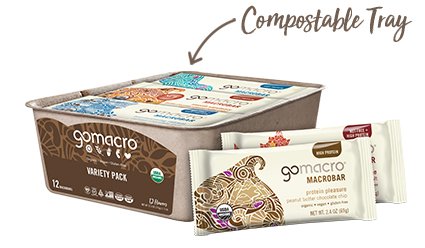 What's Inside
Our variety pack provides the ultimate introduction to MacroBars. Each tray contains 12 of our top-selling flavors: Peanut Butter Chocolate Chip, Double Chocolate + Peanut Butter Chips, Coconut + Almond Butter + Chocolate Chips, Sunflower Butter + Chocolate, Banana + Almond Butter, Peanut Butter, Blueberry + Cashew Butter, Cherries + Berries, Dark Chocolate + Almonds, Mocha Chocolate Chip, Oatmeal Chocolate Chip, and Maple Sea Salt.
See Nutrition & Ingredients List
Benefits
Organic
Vegan
Gluten-Free
Kosher
Non-GMO
Clean & Raw
Soy-Free
Dairy-Free
5
Julia
April 10, 2020
Gomacro bars have become my favorite bar!! I love getting the variety pack because I love to try all the different flavors. My favorites are oatmeal chocolate chip, peanut butter chocolate chip, and the coconut almond butter chocolate chip! Such a treat, thanks!
5
Liz L.
April 7, 2020
My absolute favorite bars!!!!
5
River
March 26, 2020
Love these Macro Bars!
5
Linda Romero
December 24, 2019
These bars are my favorite for on the go or for a quick breakfast, I absolutely love them. This variety pack is great because you get to try lots of different flavors. I also love that they came in a paper box instead of plastic packaging. It's so nice that GoMacro has sustainability in mind.
5
Jayne
December 23, 2019
I made sure I tried every single bar in this variety pack before writing my stellar review on the taste. First off.... quality. Each bar is so jam friggen packed with quality ingredients that you can taste and decipher each flavor, texture and nutrient without even realizing it's really a high packed protein bar! This variety pack is perfect if your unsure of what flavors to buy in bulk for the family and kids or bring to your next outdoor adventure with your buddies. I will always mention that the Maple sea salt is my favorite! I want GoMacro to know how important it is to have a food item like these bars available in all stores! The time love, thought and constant hours of trial and error you put into creating these outstanding bars has really paid off and it is just such a treat when I'm able to experience the tasty flavors you guys put into these protein bars! Thank you, thank you, THANK YOU!
5
AChermak
December 21, 2019
These bars (ALL of them!) are the best! They have no weird ingredients that mess with my digestion and are just the right amount of sweetness (you can actually taste the feature flavor in each bar!) Lots of yummy choices with a big enough hit of protein to keep you satisfied for awhile. Please never stop making these bars (especially the mocha one -- my fav)!
5
Darlene Elliott
December 17, 2019
These bars are high on my list of best-finds for this year. We were looking for bars that tasted better than layered cardboard covered in chocolate, and when we started eating these, we were so delighted that we ordered a second box before we finished the first. We have our main meal around noon and wanted a high protein snack for dinner. GoMacro bars are perfect: delicious, great variety and healthy. Thanks for a super product.
5
Vicki Dodge
December 10, 2019
So many great flavors in this multi-pack. I recently discovered MacroBar after searching for healthy breakfast option. The ingredients got me try these bars, but the taste and texture got me to keep buying them!
5
Michelle Elton
November 22, 2019
I absolutely LOVE these bars! I picked one up at our local Basha's store here in Camp Verde Arizona. I've searched for a decent healthy energy bar that has good stuff in it instead of junk. There's NO junk in these! All natural totally delicious good for you bars. I'm a personal trainer and owner of Camp Verde Dance and Fitness here in Arizona. I'm always looking for good nutritious foods to recommend my members and I finally found something I can trust and I highly recommend these. I usually pick up a different flavor every day. The blissful day bar with blueberries is a juicy blast in your mouth that is yummy comfort food. I joined the email list so that I can receive updated info whenever the company puts it out. Keep up the great product! I'm ordering a case to share with my members. Spreading the joy. Thanks again! Michelle Elton
5
Carla Kabasky
October 19, 2019
I tried these on a whim. I haven't finished the entire box yet, but the 4-5 I have eaten were great. The taste and texture is much better than most bars. They are sweet without being overly so and don't taste artificial. There are no mysterious bits of who-knows-what. I am enjoying the variety pack and may pick a few favorites to order or might just get another variety to keep it exciting.