MacroBar Variety Pack
Our MacroBar Variety Pack is a great way to enjoy all of our top-selling flavors.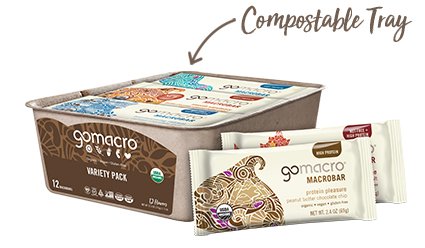 FREE SHIPPING ON ORDERS OVER $50
?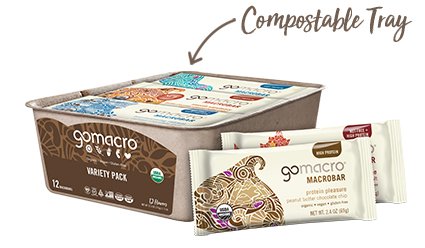 What's Inside
Our variety pack provides the ultimate introduction to MacroBars. Each tray contains 12 of our top-selling flavors: Peanut Butter Chocolate Chip, Double Chocolate + Peanut Butter Chips, Coconut + Almond Butter + Chocolate Chips, Sunflower Butter + Chocolate, Banana + Almond Butter, Peanut Butter, Blueberry + Cashew Butter, Cherries + Berries, Dark Chocolate + Almonds, Mocha Chocolate Chip, Oatmeal Chocolate Chip, and Maple Sea Salt.
See Nutrition & Ingredients List
Benefits
Organic
Vegan
Gluten-Free
Kosher
Non-GMO
Clean & Raw
Soy-Free
Dairy-Free
5
Sara
February 14, 2021
We never go without out Macro bars. My 7 yr old eats the kids macros every morning. They are a staple in our house.
5
Julie z
February 10, 2021
Delicious! Perfect for my in office snack, holds me over between clients. Also the perfect pre workout snack. I got the variety pack and I've loved every flavor so far
5
Cathy
September 15, 2020
Ordered the variety pack and all of the flavors are great! Enjoy the mix of chocolate and fruit and they are very satisfying. High quality product at a reasonable price. Will definitely have these bars in my pantry at all times!
5
Sam Cutler
September 7, 2020
Delicious variety of flavors. Texture is perfect at being not too crunchy, not too chewy.
5
Sara
September 6, 2020
Gomacro are the absolute best bars, my husband even loves them.
5
Ryan Smith
August 19, 2020
Great taste and love the many different flavors.
5
Kelly Spies
August 18, 2020
I heard about macro bars on my favorite podcast and thought I'd give them a try. I haven't been able to find just the right protein bar for breakfast that isn't either too dry, too sweet, or just tastes gross...until now! I love these bars! My favorite is the Maple Sea Salt! So unexpectedly yummy and makes me feel good that I am eating something good for me!
5
Pam
August 12, 2020
I love turning to these for midday snack.So much healthier than cookies or chocolate especially since some of the bars have chocolate chips in them.I do have to watch my sugar intake so I really try not to eat whole bar at one time and save half but soooo good it's hard.
5
Peter Catalano
August 8, 2020
GoMacro's quality continues to impress me. Not only is my brain happy (the nutritional ingredients!) but my taste buds send thank-you notes too (the flavors!).
Response:

Thank you ( and your taste buds!) for taking the time to write. We are grateful for your kind words!
5
Michael Hogue
August 5, 2020
MacroBar's are a staple of my dailey routine. The variety pack allowed me to try some flavors that I normally don't eat. They are all delicious ! Definitely expanding my MacroBar range !