MacroBar Variety Pack
Our MacroBar Variety Pack is a great way to enjoy all of our top-selling flavors.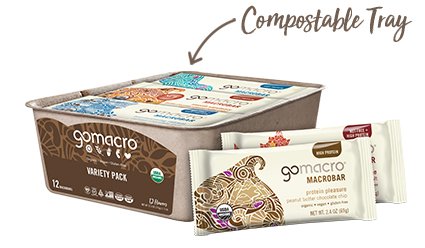 FREE SHIPPING ON ORDERS OVER $50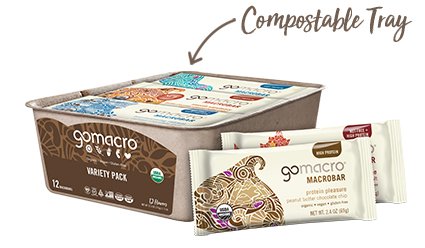 What's Inside
Our variety pack provides the ultimate introduction to MacroBars. Each tray contains 12 of our top-selling flavors: Peanut Butter Chocolate Chip, Double Chocolate + Peanut Butter Chips, Coconut + Almond Butter + Chocolate Chips, Sunflower Butter + Chocolate, Banana + Almond Butter, Peanut Butter, Blueberry + Cashew Butter, Cherries + Berries, Dark Chocolate + Almonds, Mocha Chocolate Chip, Oatmeal Chocolate Chip, and Maple Sea Salt.
See Nutrition & Ingredients List
Benefits
Organic
Vegan
Gluten-Free
Kosher
Non-GMO
Clean & Raw
Soy-Free
Dairy-Free
5
Michael Hogue
August 5, 2020
MacroBar's are a staple of my dailey routine. The variety pack allowed me to try some flavors that I normally don't eat. They are all delicious ! Definitely expanding my MacroBar range !
5
Allen
August 1, 2020
My daughter introduced me to GOMACRO by giving me a variety pack, and every bar was tasty and nutritious. I now have bought 3 more packs and continue to think the bars are great.
5
Sara
July 22, 2020
Gomarco bars are truly the best. I got the variety pack and we have loved everyone of them.
5
dirt
July 18, 2020
If you're looking for a tasty vegan protein bar, look no further (If you're naturally curious, by all means look further, because I haven't tried ALL the vegan protein bars, and doubtful as it may be, there COULD be a better choice out there...but you'll just be tired of searching for a better bar so you'll come back to Gomacro because you're hungry and you know you're getting pure deliciousness). Chewy and not too sweet, with protein enough to hang with those whey idiots. My personal favorites are Banana + Almond Butter, Maple Sea Salt, and Cherries + Berries. Have a gomacro bar, or die trying to find something better!
5
Marlow
July 10, 2020
Such a great variety! I eat one of these almost every morning and I don't think there's a single flavor I don't like. I also love what the company stands for. Highly recommend!
5
Julia
April 10, 2020
Gomacro bars have become my favorite bar!! I love getting the variety pack because I love to try all the different flavors. My favorites are oatmeal chocolate chip, peanut butter chocolate chip, and the coconut almond butter chocolate chip! Such a treat, thanks!
5
Liz L.
April 7, 2020
My absolute favorite bars!!!!
5
River
March 26, 2020
Love these Macro Bars!
5
Linda Romero
December 24, 2019
These bars are my favorite for on the go or for a quick breakfast, I absolutely love them. This variety pack is great because you get to try lots of different flavors. I also love that they came in a paper box instead of plastic packaging. It's so nice that GoMacro has sustainability in mind.
5
Jayne
December 23, 2019
I made sure I tried every single bar in this variety pack before writing my stellar review on the taste. First off.... quality. Each bar is so jam friggen packed with quality ingredients that you can taste and decipher each flavor, texture and nutrient without even realizing it's really a high packed protein bar! This variety pack is perfect if your unsure of what flavors to buy in bulk for the family and kids or bring to your next outdoor adventure with your buddies. I will always mention that the Maple sea salt is my favorite! I want GoMacro to know how important it is to have a food item like these bars available in all stores! The time love, thought and constant hours of trial and error you put into creating these outstanding bars has really paid off and it is just such a treat when I'm able to experience the tasty flavors you guys put into these protein bars! Thank you, thank you, THANK YOU!