Cashew Butter
Sweet Rejuvenation
Smooth cashew butter with crunchy cashew pieces that make for a healthy, yet delectable magnesium-rich snack.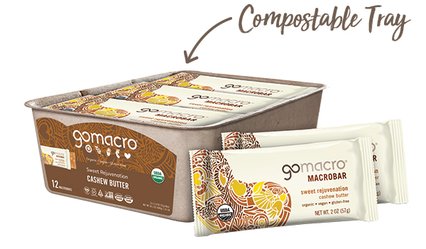 FREE SHIPPING ON ORDERS OVER $50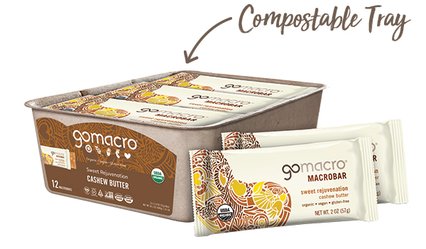 What's Inside
Made with a mix of only four (that's right four!) simple and whole ingredients, our Sweet Rejuvenation MacroBar is a simple snack with a subtle and sweet taste.
See Nutrition & Ingredients List
Benefits
Organic
Vegan
Gluten-Free
Kosher
Non-GMO
Clean & Raw
Soy-Free
Dairy-Free
Organic Brown Rice Syrup

Organic Cashew Butter

Organic Puffed Brown Rice

Organic Cashews
5
Ssss
July 14, 2020
Yuuuuummm. My fav bar!
5
John Enright
March 14, 2020
GoMacro Cashew Buter = the greatest bar ever invented! I have one every morning with my espresso!!
5
Karen
February 5, 2020
I have been eating Macro bars for over a year now and absolutely love the cashew sweet rejuvenation ones and my daughter loves the peanut butter chocolate chip ones. I have two issues... They are out of stock at 3-4 stores I buy them at frequently and they are kinda pricey so I try and load up when I find them on sale. (I have luck at Vitacost online sometimes). I keep trying though cause I really do love them!
Response:

Hi Karen, thanks for the review. I am sorry that you have difficulty locating Cashew Butter near you. Please feel free to order them directly off our website for a great selection, first-time customer discounts and quarterly sales.
5
Tonya
January 22, 2020
The cashew butter bars are my favorite Go Macro bars. I have celiac, so there are times when I am out that no food is available to me. The bars are very filling and very portable. They have saved me so many times! Thank you Go Macro!
5
Barbara J Cohn
December 17, 2019
Discovering GoMacro last year was fantastic. I can't decide which flavor I like the best as they are all fabulous. Maple Sea Salt, Cashew Butter, Sunflower Butter + Chocolate - these are my favorites. I think they taste beyond delicious, I love the consistency, the size, the ingredients. Top all that with the integrity and story of the family; having GoMacro in my life is a blessing and I wish the Kirchoffs and everyone involved with GoMacro a very happy, healthy, prosperous and joyful holiday and 2020. This all from a 39 year breast cancer survivor.
Response:

Hi Barbara, thanks for taking the time to leave your review. Wishing you a very happy and healthy 2020! -from all of us here at GoMacro
5
Marsha
November 22, 2019
I like the Cashew Butter the best because it has the least ingredients and taste is excellent.
5
Kay Daniel
May 25, 2019
The cashew butter bars are good. Although all flavors are good, the peanut butter chocolate chip and peanut butter bars are out favorites, These are wholesome, high quality bars and our favorite brand.
5
Ariana
April 21, 2019
I absolutely LOVE these bars and always take them with me to school!!! This flavour is low in sugar and delicious!! I bought a whole pack from choices today!!
5
Sheri Butte
December 7, 2018
Best NO FRILLS flavor! Its simple and it tastes SOOOOOO Good! My favorite from the GoMacro line. I eat one every morning on my way to Yoga. Its the perfect small breakfast. It does not weigh you down and gives you enough energy to reach lunch time. Thank you Go Macro!
5
Don
August 18, 2018
Chewy, flavorful and satisfying! Usually order our standout favorites, sunflower-chocolate and Blueberry, so the Cashew was a great addition. Aside from being delicious, nutritious, organic, reasonably priced, and a meal-in-a bar, they're easy to open and remain fresh. We love the new addition and the new sunflower-chocolate receipe. Gomacro proves that quality, tasty and healthy can be produced without too much sugar and salt.