Mocha Chocolate Chip
Sweet Awakening
A heavenly blend of roasted whole bean coffee and rich, organic chocolate that will surely awaken your senses.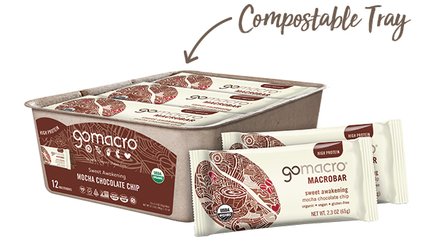 FREE SHIPPING ON ORDERS OVER $50
?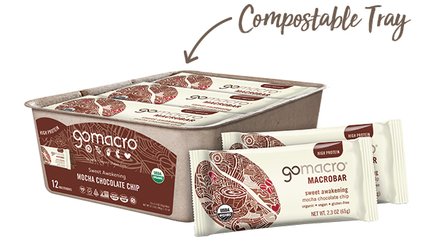 What's Inside
Elevate your day with our blend of roasted whole bean coffee and just-sweet-enough organic chocolate. You can skip the second cup with our Mocha Chocolate Chip MacroBar; we promise it will deliver a truly Sweet Awakening. Please note each bar contains 36 mg of caffeine, slightly less than half of a standard cup of coffee.
See Nutrition & Ingredients List
Benefits
10 grams of protein
Organic
Vegan
Gluten-Free
Kosher
Non-GMO
Clean & Raw
Soy-Free
Dairy-Free
Low FODMAP
​
Organic Coffee

Organic Chocolate Chips

Organic Almonds
5
Roxane Wolzen
April 9, 2021
Absolutely the best bar I have found with the best "good for you" ingredients. Ive tried about every flavor and love them all. My rating would be a 10!
5
Angela
April 6, 2021
The mocha chocolate chip bar, while meant to be an energy bar, I save for dessert after lunch. I love the combination of chocolate and coffee flavor with the wonderful chewiness of Go Macro bars. Go Macro bars are the best!
5
Rebecca Richardson
April 6, 2021
This is my favorite flavor of macro bar. I can't find it in stores anymore so I ordered straight from the site. They arrived very fresh, soft, and delicious!! I will definitely order again!! Thanks GoMacro!!
5
Kevin Antaya
September 17, 2020
Ever since reading Rich Roll's Finding Ultra, I have been addicted to these bars. They are expensive but provide me an easy, go-to, and most importantly healthy snack in between breakfast and lunch, usually eaten with a handful of nuts. Mocha chocolate chip is my favorite flavor, as I can eat it without water and the taste is fantastic. I always buy in bulk when they offer a 30-40% off sale bc I eat around a bar a day.
5
Laurel Warddrip
August 20, 2020
I love these bars ! they fill me up, they are delicious, and I love that they have a coffee kick! thank you so much for carrying these!!
5
Becky
August 6, 2020
I've tried many flavors of goMacro bars and this is by far my favorite. I don't have a chance to stop for a cup of coffee while at work, and sometimes I don't even have a chance to eat lunch. This bar covers both of my issues, it gives me the coffee kick I need and it satisfies my hunger cravings. There are just enough chocolate chips in this bar to give it some texture, but not so much to make it chocolate chip bar. The coffee flavor is just right. I usually buy goMacro in a variety pack, but this flavor is so good I had to splurge on the entire case! I highly recommend it.
5
Betty
August 5, 2020
This is such a treat to have in the morning alongside my morning cup of coffee! It's the perfect pick-me-up bar with the taste of espresso and chocolate. Highly recommend.
5
Joyce
July 30, 2020
I love the mocha so much, I'm ordering two more today + two coconut, my second favorite, I can't face the day without my mocha bar!
5
DollyCMA
July 17, 2020
Mocha Chocolate Chip is my favorite!
5
Janet Hiatt
July 12, 2020
I absolutely love these bars. I have a hard time with Protein bars mostly because they taste awful. These however have been my go to for over a year. I found them at a local store in Colorado and then security look online. I love that I can buy them in bulk so I have them when I'm planning my hikes. The Mocha is my favorite as it gives me protein and energy when I'm on an especially hard trail. Keep these up. Plus the bin is reusable so I can plant in them.