Cashew Caramel
Protein Paradise®
Made with creamy organic cashews and a touch of mesquite for a sweet and warming caramel flavor, enjoy a moment of paradise - no matter where the day takes you.

Get Same Day Delivery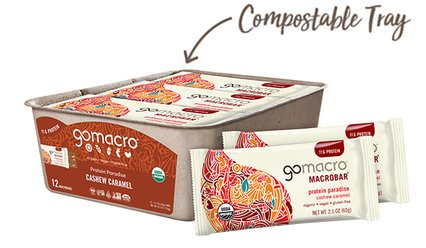 What's Inside
An intriguing blend of mesquite and cinnamon gives this bar its vegan-friendly flavor without being too sweet. Its silky-smooth taste combined with 11 grams of plant-based protein will make our Protein Paradise MacroBar® your favorite healthy treat!
See Nutrition & Ingredients List
Benefits
11 grams of protein
Organic
Vegan
Gluten-Free
Kosher
Non-GMO
Clean
Soy-Free
Dairy-Free
Organic Cashew Butter

Organic Cashews

Organic Mesquite

Organic Cinnamon
3
Deed
April 19, 2023
Meh. Not my favorite, by far.
5
Karla
December 20, 2022
In general, I'm pleased to have a tasty snack to keep sated throughout the workday, while supporting a good company.
3
Annie Chermak
October 23, 2022
Prefacing this with the fact that we've LOVED all of the GoMacro bars that we've purchased frequently in the past! However, this box of Cashew Caramel bars has a slightly off flavor. I also noticed it slightly on the Blueberry/Cashew Butter bars. Hopefully it's just an anomaly cuz they've always been great in the past!
5
Devin Gillespie
September 7, 2022
Really yummy flavor. The bar has a nut butter consistency, but it is still chewy and delicious. I warmed mine up over ice cream and it was amazing.
5
Lora Cermola
August 27, 2022
Love, love these bars! the Caramel Cashew is awesome. Sweet and chewy but not too much.
5
Melka
July 29, 2022
This bar is so tasty! It's chewy, but not sticky like taffy. It has a few crisps here and there, a nice nutty bite here and there. It satisfies my craving for something sweet without being overkill. I love that it doesn't have chocolate. I can't eat chocolate because I end up sick for days with gastrointestinal issues that can even escalate to bleeding. So finding a brand that has adequate calories, fiber, a good balance between protein and carbs, yet has no-chocolate options that aren't just "vanilla" is amazing. The other ingredients are also very clearly stated, delicious, and nutritious. I rely on bars when I work in the lab. I sometimes step out for five minutes, sip my water and eat one of my bars. I care about feeling nourished, eating quality ingredients, and more importantly, finding things that will not trigger painful episodes because chocolate had to be added. Thank you so much! You have no idea how long I have looked for a bars like this. I bought this one along with Maple Seasalt, Banana + Almond Butter, Granola Coconut (as a snack). GoMacro is now my new reliable source for nourishment.
5
Louise
April 6, 2022
This one is pretty new to me and I like the rich cashew flavor with caramel. Definitely an add in to my much enjoyed and pretty complete GoMacro rotation. I just don't do banana or mocha.
5
Judith Anderson
July 6, 2021
We LOVE each and every gomaro bar, favorites Cashew Carmel, maple one, blueberry yum. Thank You for this wonderful protein bars
1
K.S.
April 16, 2021
I've loved every other variety we've tried, but these were inedible. Very weird, off flavors, and the texture was rubbery. The cashews had the consistency of cashews that have been soaked in water over night. I'll be back for more GoMacros, but never these ones.
Response:

Hi K.S. - We are sorry to hear that you had a less than positive experience with the Cashew Caramel Macrobar. You can expect a member from our Customer Care Team to connect with you to chat further about your experience.
4
Sarah
April 14, 2021
I love gomacro bars. Cashew Caramel is just not my favorite kind. It's much blander than I imagined, so next time I'll stick with one of my tried and true favorites.