Cashew Caramel
Protein Paradise
Made with creamy organic cashews and a touch of mesquite for a sweet and warming caramel flavor, enjoy a moment of paradise - no matter where the day takes you.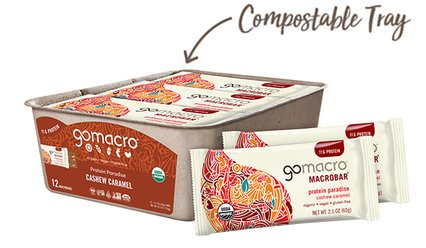 FREE SHIPPING ON ORDERS OVER $50
?

Get Same Day Delivery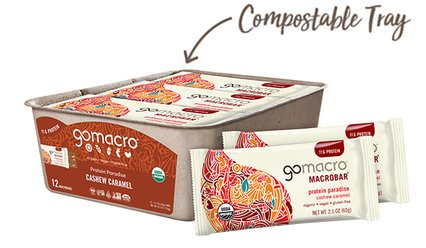 What's Inside
An intriguing blend of mesquite and cinnamon gives this bar its vegan-friendly flavor without being too sweet. Its silky-smooth taste combined with 11 grams of plant-based protein will make our Protein Paradise bar your favorite healthy treat!
See Nutrition & Ingredients List
Benefits
11 grams of protein
Organic
Vegan
Gluten-Free
Kosher
Non-GMO
Clean & Raw
Soy-Free
Dairy-Free
Organic Cashew Butter

Organic Cashews

Organic Mesquite

Organic Cinnamon
5
Louise
April 6, 2022
This one is pretty new to me and I like the rich cashew flavor with caramel. Definitely an add in to my much enjoyed and pretty complete GoMacro rotation. I just don't do banana or mocha.
5
Judith Anderson
July 6, 2021
We LOVE each and every gomaro bar, favorites Cashew Carmel, maple one, blueberry yum. Thank You for this wonderful protein bars
1
K.S.
April 16, 2021
I've loved every other variety we've tried, but these were inedible. Very weird, off flavors, and the texture was rubbery. The cashews had the consistency of cashews that have been soaked in water over night. I'll be back for more GoMacros, but never these ones.
Response:

Hi K.S. - We are sorry to hear that you had a less than positive experience with the Cashew Caramel Macrobar. You can expect a member from our Customer Care Team to connect with you to chat further about your experience.
4
Sarah
April 14, 2021
I love gomacro bars. Cashew Caramel is just not my favorite kind. It's much blander than I imagined, so next time I'll stick with one of my tried and true favorites.
5
Midwest Hacker
April 10, 2021
This is a truly amazing bar. Very soft and melts in your mouth. All of them are good but this is my favorite. Speaking of.......I need to go check my supply........CAN'T run out....LOL
5
Isabella
December 1, 2020
I absolutely LOVE these bars!! The perfect combination of flavours.
5
emily
September 26, 2020
I love this flavor, and the crunch from the cashews! I'm a fan of go macro bars and plan to try every flavor! I really enjoyed this flavor, its not to sweet and its soft. Always enjoys these bars whether its a snack or as a pick me up. Very nutritious and delicious! :)
5
Chris
August 8, 2020
Excellent product. Easy to eat. They go fast they are so tasty.
5
Melissa Meier
April 13, 2020
I love gomacro and have been a very loyal customer for a long time. Super disappointed that the order I placed 3 weeks ago has still not arrived. When a tracking number was finally provided, it was invalid. Hoping for a refund since I never received anything : (
5
Barbara J Cohn
October 25, 2019
I too am in love with Cashew Caramel. I discovered it at a health food store in Wisconsin and when I moved to New York was SO excited to see Gomacro sold at Trader Joe's! However, they didn't have any Cashew Caramel and the folks at Gomacro have told me that unfortunately there are only four flavors at Trader Joe's so I'm out of luck. And yes, they are expensive and I'd also be really happy as a "customer for life" to be able to buy bulk and get a better price. I'm so impressed by the family and the story behind the Gomacro products and am thrilled to have found them. But I only like the Cashew Caramel so I hope I can find a deal somewhere, even though I would prefer to buy direct.
Response:

Hi Barbara, We would be happy to help you locate your favorite Cashew Caramel flavor at a location near you, please check our Store Locator feature at www.gomacro.com Also, ordering directly from us online is a possibility and you will enjoy First-Time customer savings of 25% off and free shipping with coupon "New25"