Protein Decadence
Dark Chocolate + Almonds
Peruvian dark chocolate combined with roasted almonds for a high-protein, guilt-free indulgence.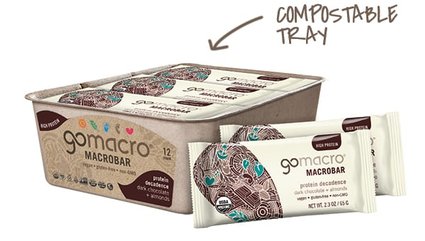 FREE SHIPPING ON ORDERS OVER $60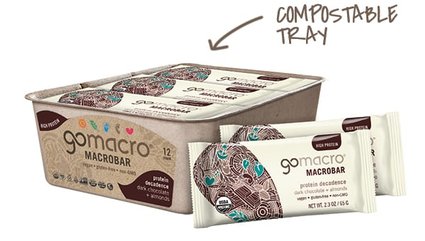 What's Inside
When the taste of Peruvian dark chocolate meets roasted almonds, you know you're snacking smart. Our Protein Decadence MacroBar is a guilt-free delight that is sure to please any chocolate lover's craving, with an added bonus of 10 grams of plant-based protein.
See Nutrition & Ingredients List
Benefits
10 grams of protein
Gluten-Free
Dairy-Free
Vegan
Non-GMO
Organic
Kosher
Soy-Free
Organic Almonds

Organic Fair-Trade Chocolate Chips

Organic Puffed Brown Rice

Organic Cacao Powder
4
G.I.Mom
March 5, 2019
Love the dark chocolate! Great flavor Keep them coming
5
Jerod Millard
February 21, 2019
This bar is greatness! I have tried a bunch of them and they all are very unique and taste amzing. I wish they were a little cheaper, but I am willing to pay for a great quality product. Healthy never comes cheap! The only thing I would tell the company is don't change a thing. Thanks again for creating and making these delicious bars. I will be a forever customer.
5
Joyce
January 26, 2019
My 3 year old loves these. I told her it was a brownie granola bar. Now she asked for them all the time. So yummy. We also will be traveling with these. Easy snacks on the go!
5
Ryan
January 15, 2019
I gave the Mocha Flavor a scathing review so I wanted to balance that with a glowing review for the Chocolate Almond Flavor. GoMacro is producing some of the best snack bars on the market right now. This flavor is among their best. They are perfectly filling. Great small meal substitute to bridge the gap. Flavor is as good as it gets for bars this high in nutrients. All around 5-star bars. Keep up the good work GoMacro (but please label the bars with caffeine more clearly).
5
Kate
January 3, 2019
I might eat one of these a day. :P Definitely my favorite flavor and I love that there are no peanuts (I stay away from inflammatories.) Perfect mix of healthy and decadent. Love the chocolate chips.
5
Sheri
December 10, 2018
Awesome new flavor with a nice chewy texture.
5
Barb
December 9, 2018
This my favorite when I want a decadent treat. I know it's also made from good things too.
5
Susan Catalano
December 8, 2018
The BEST of the best!! Love this new flavor! Happiness in a wrapper.
5
Diane
December 8, 2018
I love love love all the gomacro bars. I have not met one I don't like. They are great for traveling keeps me from being hungry when I have long days also keeps me away from stopping at fast foods.
5
Cynthia Lua
December 7, 2018
My favorite gomacro bar! If you love dark chocolate, you cannot go wrong with this bar.
5
michelle s.
December 7, 2018
Love these! Everlasting Joy was my favorite flavor until this new flavor came out! I just wish these came in the mini option as well.
5
Gerard
December 7, 2018
My favorate also. Reminds me of a gourmet tootsie roll
5
Ashleigh
December 6, 2018
This is the best tasting bar I have ever had! I have tired so many of the other brands out there, but this brand and flavor is hands down the winner.
5
Sheri
November 4, 2018
Best flavor ever. I have found my favorite go to snack with the dark chocolate and almond bar,. It has a great texture and is very filling, I love it! So will you if you try it.
5
Catherine
September 7, 2018
This is by far the yummiest bar ever!!!! I bought two sleeves and hid them from my husband and would only let him eat the Peanut Butter Chocolate Chip. Just the right amount of chocolatey goodness. Beyond Delicious! Just wish more stores stocked them!
5
SSong
September 4, 2018
One of the best, high quality and tastes great.
5
Song
August 27, 2018
Chocolate and almond flavor taste like a great brownie, i eat three a day as part of my healthy eating and healthy living as an avid runner.
5
Barb
August 25, 2018
This is a great new flavor and it's delicious. My daughter has made this her new favorite GoMacro bar. I'm not really a dark chocolate lover, and this chocolate is suble enough to satisfy your sweet tooth.
5
Christa
August 22, 2018
This flavor is by far one of my favorites. It is so chocolatey and decadent. And the chewy texture truly makes it even better. The almonds are also a nice bonus. This is my second box of this flavor and I don't see myself ever getting tired of it. Thanks GoMacro!
5
Beth Izold
August 15, 2018
Very good! I kind of want more chocolate flavor, but overall I really like the product.
5
Dowling
August 15, 2018
I like this new flavor and anything with chocolate!
5
Lisa
July 27, 2018
This is my favorite! I'd love some recipes using this bar please
5
Lynn Spates
June 20, 2018
The bars in the carton I bought are very moist and chewy, which I love. It could be that they are just very fresh. The chocolate flavor is wonderful and the nuts complete the taste and texture. Very satisfying. Yes, I agree with the other reviewers that this is my new favorite flavor.
5
Mary
June 17, 2018
This is my favorite macro bar so far. I wish you made it in the mini size as well so I could have them to take on the go for a quick energy boost.
5
Dowling
June 10, 2018
Very nice flavor!
5
Laurie Drogowski
June 5, 2018
This is only the second Gomacro bars I've ever had. I saw this new flavor and ordered it. I wasn't disappointed, as I LOVE it! Not to much chocolate for the almonds, perfect!
5
Ingrid Romano
May 28, 2018
This is my new favorite bar! I like the chewiness of it and the more chocolaty flavor of it. I just wish I could find these in the stores now such as Whole Foods. They have the other kinds but not this one yet.
5
Alison
May 10, 2018
My new favorite GoMacro bar! Nice soft, chewy texture with some crunch. Just indulgent enough.
5
Kathryn
April 22, 2018
These bars are the perfect snack! They are a great option for a mid-day snack or pre/post workout. This bar has a softer texture than other GoMacro flavors. I love the dark chocolate and almond together; the chocolate isn't overpowering the almond.
5
Cortney
February 28, 2018
My new favorite flavor... yum!!!!