New Flavor Bar Variety Pack
New Flavor Bar Variety Pack
Get your hands on the 2 newest additions to the MacroBar family with our New Flavor Variety Pack!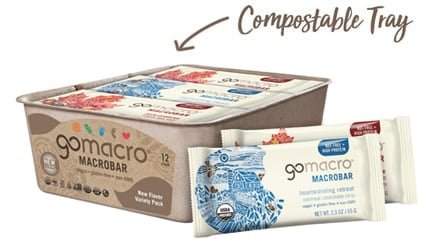 FREE SHIPPING ON ORDERS OVER $60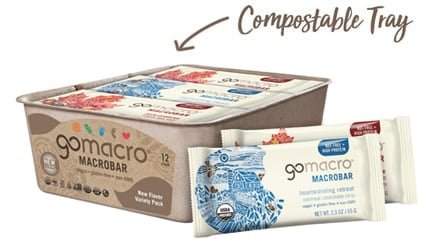 What's Inside
The MacroBar New Flavor Variety Pack contains 6 bars of each of our 2 newest flavors including Oatmeal Chocolate Chip and Maple Sea Salt.
See Nutrition & Ingredients List
Benefits
Nut-Free
Organic
Vegan
Gluten-Free
Kosher
Non-GMO
Clean & Raw
Soy-Free
Dairy-Free
5
Diana
December 23, 2019
Love the new flavors. Think they're officially my new favorites. Love that they have this duo flavor pack.
5
Michael
December 17, 2019
I haven't had a bad GoMacro yet, all of the flavors are amazing including these two new ones. We can't keep them in the house!
5
Marilyn Glazer-Weisner
November 24, 2019
OMG--my family loves the new flavors! I cannot keep them in the house long enough for all of us to enjoy them because they are so great! Please make more of your new flavors available to us! Go Gomacro!
5
Bonnie
October 28, 2019
I love these bars! All the flavors are great. I haven't tried one i didn't like. They are not too sweet and have a soft texture. If I'm going to be away from home for a few hours i always take one with me in case i need a pick me up.
5
Elizabeth Smith
October 25, 2019
It's hard to find something to eat that is free of dairy, almond, apple, chocolate AND gluten. I was excited when I came across the Go Macro! Peanut Butter bar and even more thrilled once I tasted it! This bar has been a lifesaver and go to for breakfast or when Hangry Hour hits and I need something safe and quick. Thank you so much for creating something so delicious!
5
April Hill
October 18, 2019
I love your new bars (maple sea salt and oatmeal chocolate chip) they are delicious!!!
5
Brooke Varney
September 18, 2019
My new favorite GoMacro flavors!! These bars have the perfect texture and flavor, and taste like you're eating a cookie. So good. The only problem is that I'm having a really hard time sharing them with my family...
5
Aliza
September 11, 2019
So yummy! I like both flavors. The oatmeal chocolate chip is a delicious and less heavy feeling alternative to my favorite peanut butter chocolate chip. It has just the right amount of sweetness with a good texture. The maple and sea salt is also super yummy. I love the pumpkin seeds in it. I am really impressed by both of the new flavors.
5
Valerie James
September 10, 2019
LOVE these new bars! I was curious as to how they would turn out without nuts & they are incredible. The chocolate chip one honestly tastes like cookie dough & the maple one is delicious and a perfect balance of salty-sweet. They are still high protein which is great - I would highly recommend checking out these new flavors if you love GoMacro's original nut-based bars!
5
Daniel
September 9, 2019
Love the bars! Could be less sweet and lower sugar
5
Katherine
August 30, 2019
Both of these flavors were delicious. I love the texture. My only issue is figuring out how to make the box last longer in our house. My new favorite bars for sure.
5
Tyler
August 2, 2019
Neither of these new flavors disappointed! GoMacro is a true staple in our household, Oatmeal Chocolate Chip is the new favorite and the Maple Sea Salt is not far behind (although the PB Chocolate Chip and PB PB chip still trump that one). Will definitely be ordering again!
5
Kaylee
July 29, 2019
You can never go wrong with any of the gomacro bar flavors. They knocked it out of the park with the maple flavor and the crunchy pumpkin seeds. With the addition of oats in the oatmeal chocolate chip bar give it a nice chew. Overall I would recommend any of their bars if you're looking for a healthy snack.
5
Amy Harlib
July 23, 2019
LOVE ALL YOUR FLAVORS, ESP. THE NEW ONES AND I ALSO LOVE THE DENSE,CHEWY TEXTURE.
5
Shea
July 23, 2019
Absolutely LOVE the new flavors!! The maple bar takes a lot like cashew caramel, which is one of my favorites. I will definitely get both of these again :)
5
Colleen Russell
July 17, 2019
Best new flavor available! There's a little crunchy texture with the oatmeal and the sweetness of the chocolate. I don't know how I'm going to stray from this flavor now.
5
Amanda M
July 11, 2019
Love these bars! Second time ordering and the variety is perfect. These are a go to for me to take to work for pre or post workout! Blueberry is great for breakfast and I eat any in afternoon. The texture and biting into is is so much better than a lot of other bars I've tried.
5
Andrea Holmes
May 16, 2019
The new flavors are terrific, especially the Mocha! Kids feel like these are a treat instead of a nourishing way for them to start their day ; )
5
Kasey
April 20, 2019
Loved the taste and texture! ill be purchasing again.
5
Alexandra Ferrara
March 17, 2019
Absolutely love these flavors! We have ordered this pack a few times before and don't plan on stopping. There honestly isn't one flavor that we don't like! We are huge fans. Including my 18 month old
5
Shanleigh Knittel
March 15, 2019
My husband and I love this Sampler Pack! We're obsessed with GoMacro, but these are probably our top picks. Love that they can be ordered together in a pack!
5
Ashley Lemon
March 12, 2019
I love the new flavors!
5
Irek
December 7, 2018
Whatever they come up with, it's always delicious. The new flavors are great, too. GoMacro is really the best on the market.
5
Jen
December 7, 2018
These are amazing! These are my favorite bars & I look forward to my breakfast every morning because of them
5
Carrie
December 7, 2018
GoMacro bars are perfect for athletes! As a competitive vegan runner, I travel with them all the time and these new flavors do not disappoint!
5
Ellen
September 20, 2018
My husband and I like these bars better than any other we've tried. And we've tried MANY! Love all the flavors. I needed something low sodium so GoMacro bars are perfect.
5
Audrey Douglas
August 31, 2018
Can't say enough good about these.
5
Caitlin
August 6, 2018
I love this whole pack so much. The flavors are so delicious. So good. Highly recommend. My favorite flavors of all the flavors.
5
Emma Manion
July 10, 2018
Without a doubt will be purchasing again. Gomacro bars are my favorite bars on the market!
5
Jen
June 10, 2018
These are a great addition to the awesome macro bar line up. I'm glad I got the 12 pack
5
Aaron C
June 6, 2018
Sooo good! Love these new flavors!
5
Stephanie
May 29, 2018
SO GOOD! Absolutely love all three of the new flavors. I'm so happy they're all high protein as well. They're clean ingredients and so delicious!
5
Sarah
May 11, 2018
LOVE these new flavors! Each one is more delicious than the last! They are all HIGH protein and serve as a wonderful energy source on the go. Great job!!