MacroBar Variety Pack
Our MacroBar Variety Pack is a great way to enjoy all of our top-selling flavors.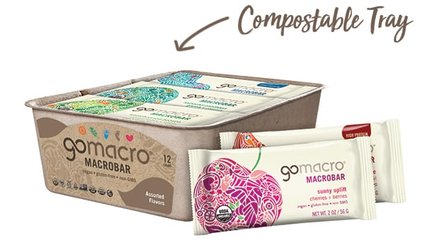 FREE SHIPPING ON ORDERS OVER $60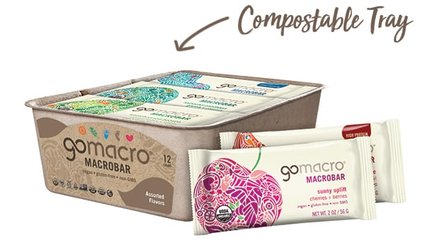 What's Inside
Our variety pack provides the ultimate introduction to MacroBars. Each tray contains 12 of our top-selling flavors: Peanut Butter Chocolate Chip, Coconut + Almond Butter + Chocolate Chips, Granola + Coconut, Sunflower Butter + Chocolate, Banana + Almond Butter, Apple Cinnamon, Peanut Butter, Blueberry + Cashew Butter, Cherries + Berries, Cashew Caramel, Dark Chocolate + Almonds, and Mocha Chocolate Chip.
See Nutrition & Ingredients List
Benefits
Organic
Vegan
Gluten-Free
Kosher
Non-GMO
Clean & Raw
Soy-Free
Dairy-Free
5
Kathleen Grkman
June 20, 2019
I purchased the variety pack and I was always looking forward to which flavor I was going to try each day! I think it's a great idea to have a variety pack available so that all the flavors can be sampled. I really enjoyed all of the bars, but especially loved the coconut+almond butter+chocolate chip and the chocolate almond. Great tasting bars with great nutrition as compared to typical energy bars you would buy at the store!
5
Jazzmine M.
May 22, 2019
I ordered the variety pack to check out the different flavors. I have enjoyed each one so far, these bars so filling, tasty, and VEGAN! I carry one on me at all times. I just slip one in our diaper bag/purse for that emergency snack on the go, or for my sweet tooth. These Macro bars are the BEST bars on the market hands down!
5
Nick Web
May 19, 2019
Love all the flavors! Would highly recommend.
5
Diana
May 19, 2019
Love these bars! This is my 2nd order and won't be my last. I like all the different flavors and the consistency . I would want a box or two of these bars if I were ever stranded anywhere.
5
J Mo
May 16, 2019
Love all the flavors! My wife loves them as well. Glad they are all natural vegan so anybody can eat them.
5
Greg
May 5, 2019
Bought the sampler pack and so far this has been one of the best bar purchases I have ever made. I recently had the berry one and oh my, this has surpassed most of the usual suspects I typically buy because of the variety at my local store. What I love most of all about these treats is how filling they can be considering they're just bars. I look forward to starting each weekday with one and look forward to continuing to explore all the current flavors and hope they continue creating new dynamic and super tasty treats!
5
Becky
May 2, 2019
I purchased the variety pack and have enjoyed all the flavors. The apple cinnamon is really good and who doesn't like peanut and chocolate combinations! The soft and chewy texture is great!
5
Linda Kirshbaum
April 27, 2019
I was very disappointed. I didn't like the Texture and for the amount of sugar it Wasn't as sweet as it should be. I would Not recommended it.
Response:

Hi Linda-We appreciate you taking the time to leave your feedback. We want our customers to be satisfied with their purchases, and are very sorry to hear we've let you down. A member of our team will be reaching out to you shortly!
4
Lacey
April 23, 2019
I purchased the variety pack because I fell in love with the peanut butter choc bar! These bars taste great without even knowing your are snacking responsibly! I could not find all of these varieties at my local store so purchasing from this site is great. I am excited to get through all of the flavors and I am having my staff try them too! I'm giving a 4 rating at this time for the fact that I have not tried all of the bars just yet to give them a 5.
5
Elayne
April 17, 2019
i enjoyed that there were a lot of flavors to choose from to see which ones i enjoyed. definitely liked the sweeter/nutty selections more. wonderful and cute packaging :)
5
Jerry Andrews
April 15, 2019
I'm a big fan of eating healthy & clean and this is the best bar out there by far.Do your body a favor (and a flavor), get some of these great bars!
5
Karisa
April 12, 2019
I am a huge fan of these bars and wanted to try all the flavors. This is a great pack and a good deal. I will be doing the subscribe option for sure!
5
Miranda
April 11, 2019
I have been a huge fan of the chocolate chip peanut butter for a long time! Being vegan can be hard to find a filling, balanced and tasty bar but Go Macro never disappoints. Due to my area, we have only a handful of flavors which prompted me to order the variety pack. I am about halfway through it and I have thoroughly enjoyed every new flavor I have tried. I am a Go Macro fan FOR LIFE!!!!
5
Rachel
April 10, 2019
I can never go wrong with my gomacro bars.I live in the middle of no where and something go into my box before I got home and enjoyed them before i did. I called GOMACRO and they sent me a new package in a timely matter! So whatever little critter got my last ones got to enjoy and this batch, i got to enjoy! I 1000% recommend these bars !
5
Jessica
April 8, 2019
We first discovered GoMacro bars while traveling the back roads of Wisconsin! When we actually first tasted them, we discovered we love them. There hasn't been a flavor we haven't liked. I love the variety pack, because you don't get bored with the same flavor. They give you lasting energy and leave your belly full! Keep up the great work and can't wait to try new flavors!
5
Miekka
March 31, 2019
Ordered the sampler pack. LOVED them all!! The banana + Sunflower butter tasted like fresh banana bread!! It's hard for me to find a good tasting vegan protein bar that keeps me full!! I think I found my new GO too!! Yum
5
Barry Bush
March 26, 2019
I Ordered the Sampler Pack to check out a variety of flavors and see which I might wish to reorder. They are all delicious!! I'll be ordering more for sure!!!
5
J Morris
March 17, 2019
Great variety of snack & protein bars that actually taste good. I've had at least 12 different flavors and haven't had a bad one yet. I definitely recommend.
5
Melissa C.
March 6, 2019
Absolutely love these bars! I ordered the assorted pack and there was not a flavor I do did not like! Love the chewy texture! I also found thesr bars at Sprouts over the weekend, so thrilled! Defintely my favorite healthy bars!
5
Laura
February 18, 2019
I want this pack so badly, i'm asking for it for a birthday gift. They sell these at my university and I have been eating them for a year now.... and all I can say is these are absolutely stellar. I'm obsessed with the Banana Almond Butter flavor. But I haven't been disappointed by one yet! They only have select flavors here, so I really can't wait to try the other flavors!
5
Deb
February 18, 2019
I love these bars. They are my new go to favorite! The flavors and textures are satisfying. The are macro so I know I am getting the right balance of protein, fat, and carb.
5
Joan
February 18, 2019
Finally, a bar that I enjoy and feel good about eating. All the flavors are delicious. My daughter loves them too. It will be a staple in our kitchen.
5
Diana L Anderson
December 18, 2018
Delicious! I'm so glad that I ordered them!
5
Angela
December 7, 2018
I love how chewy they feel and how healthful they taste!
5
David
December 7, 2018
I love the sampler pack since I can't decide which is my favorite flavor. Plus they're larger than most other energy bars at the same price! Soooo good!
5
Shekky
November 15, 2018
Not much to say but awesome!
5
Samantha
November 2, 2018
I LOVE Macrobars! I'm so glad I found them. I've enjoyed most of the bars in this sampler pack and am happy I discovered new flavors!
4
Jan Greenqiist
October 29, 2018
Over all the bars were pretty good. Not crazy about the texture. I'd like something "crunchier" . I like the organic thing. Gluten is not a factor for me. Kinda hard to find in the rural Heartland. I live just outside of Richland Center, not a real small town by our standards, but cannot find them here. How about putting them in Kwik Trip? We also have Kelly's Coffee House here, and I betcha they would carry them. So anyway the Drftless Areas "Hidden (literally) Treasure."
5
JHarrison
October 25, 2018
These are soooooo good and good for you! I'm not a big fan of peanut butter, but I LOVE ALL of the Sampler Pack macrobars. I was pleasantly surprised by their flavorful mixes. Who knew I'd like sunflower or cashew butter??
5
Nikita Josephine
October 23, 2018
Love Go Macro bars!!! I have been buying them for years!!! Thank you Go Macro!!!
5
Danielle M.
October 23, 2018
I've been eating gomacro bars for a couple of years now and love them for their taste and ingredients. They are quite filling and due to being vegan and gluten free, I can happily share them with any of my friends. They have "saved my life" a few times while I was traveling somewhere and couldn't find a decent or healthy option for food; these tide me over until my next meal. I've only been able to try a few flavors due to the inventory of local stores, so I was super excited to try this sampler pack. I'm half way through it now and love all the flavors (being partial to apples, morning harvest was a particular favorite so far). Thank you for making these delicious bars!
5
Pat
October 20, 2018
My only regret is that I didn't buy 2! Loved all of the flavors / best way to pick your favs & the price was right! Will defiantly be placing another order!!
5
J.P.
August 24, 2018
Delicious, and I love that they come in the variety packs!
5
Steph Poehling
August 15, 2018
My whole family loves these bars. And that is quite the feat! These are healthy and delicious tasting...something I feel good feeding to my family
5
Cathy Heller
June 18, 2018
I mainly eat "nutritious" bars for lunch. I decided I needed to get away from the processed bars. I googled more healthy alternatives and discovered Macrobar. I ordered a sampler pack. The bars are delicious! I recently ordered a second sampler pack!
5
GinaV
June 14, 2018
Really surprised with how moist and tasty they were. For me especially since I thought I would Only like the peanut butter chocolate chip bar - but surprisingly my favorite is the apple walnut. I've tried almost all the flavors and there hasn't been One that I've not thoroughly enjoyed. Thank you.
5
vicki
June 1, 2018
Great to have a protein bar without whey or other milk - so hard to find! these are delicious, great texture
5
Michelle
May 30, 2018
Love them, all the flavors are great. I think I will keep ordering the variety pack, can't pick a favorite. Low sugar, great flavor....great to travel with or to have in desk drawer.
5
AGC
May 21, 2018
All the flavors are sooo good! Finally a snack bar / protein bar that is tasty (and all plant based / clean ingredients). I like the variety pack to mix it up.
5
Susan Rach
May 17, 2018
Was so happy to find something sweet that is gluten free. The cherries+berries was definitely my favorite. I will order them again.
5
Jerrod
May 17, 2018
By far my new go to bars - decided to switch all of my protein supplementation over to vegan towards the end of last year and GoMacro is by far the most interesting and different. Now if I could just get them faster! : )
5
Nina
May 15, 2018
The best protein bar on the market!!!! I usually don't like the many different kind that are out there... but these are perfectly chewy, perfectly sweetened and perfect taste! Fills you enough to hold you over with all NATURAL ingredients!
5
NPeterson
May 11, 2018
Love the variety, taste, texture is good as well. Favorite so far is mixed berry, love the cherries. Banana almond butter was great too.
5
Erin K.
May 10, 2018
I loved trying all the different flavors. I preferred the bars with high protein because they kept me full for a good workout or a work shift. All of the bars were delicious! If you are new to GoMacro, this is a great sampler to try to figure out a flavor you like. Because of this, I found a new love for the Coconut Almond Butter bar! Worth the money!
5
Gina Deslongchamps
April 28, 2018
These are by far the best vegan nutritious bars on the market. They are chewy, tasty, perfectly sweetened, and absolutely amazing. My whole family are now hooked on them.