Apple Cinnamon
Morning Harvest
The same warm and familiar blend of cinnamon, chopped walnuts and chunks of real apples make this bar reminiscent of your favorite apple pie, but with even more apples and cinnamon!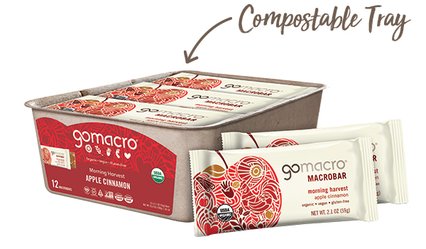 Sorry! We're Out of Stock.

Please check back later or enter your email to get notified when it's back in stock.

Notify When Available
FREE SHIPPING ON ORDERS OVER $60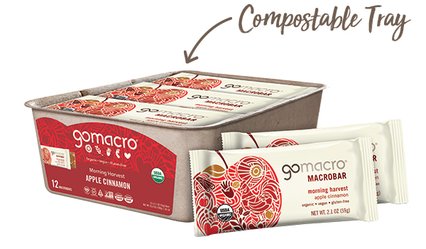 What's Inside
Our sweet Apple Cinnamon MacroBar is reminiscent of a delicious, homemade apple pie. The warm and familiar blend of cinnamon, chopped walnuts and chunks of real apple, this breakfast bar was harvested for morning happiness.
See Nutrition & Ingredients List
Benefits
Organic
Vegan
Gluten-Free
Kosher
Non-GMO
Clean & Raw
Soy-Free
Dairy-Free
Organic Apples

Organic Walnuts

Organic Cinnamon

Organic Sunflower Seed Butter
5
Gerald Wright
January 28, 2020
Finally something real! Honestly the best bar for a health conscious individual and anyone in between. I've eaten my last one today and wish I could go somewhere and buy a box. Taste, texture are amazing and it feels good on the way down lol. Great product
5
Cyndi
January 27, 2020
From the first bite, these bars are delicious! They are tied for first place, for my favorite Gomacro bar. I do wish that they contained more protein. Taking a bite of this bar is like eating a bite of apple pie or apple crisp. So yummy!!
5
Bridgett R. Jenefor
January 10, 2020
Oh Mmmmm Goodness!!! Well today I discovered the cherries & berries gomacro, macrobar and I'm telling you that my taste buds opened up like a church choir on Sunday morning! Literally...….. I've always loved all of the macrobars, but this one truly had me awestruck!! As a fitness instructor in Denver Colorado, I will definitely share this fine discovery with all of my classes to enjoy as well! Keep doing what you do and may the unmerited favor of God continue to be upon your business!! TrueBlessings, Bridgett R. Jenefor DPR Fitness
5
Pam
June 23, 2019
My favorite go to bar when I'm looking for a sweet snack or something to tide me over until my next meal.
5
John Davie
May 16, 2019
Amazing taste! great ingredients - unbeatable!!
5
Sarah
April 10, 2019
I discovered the Carob Almond bar first and this was the second Go Macro bar I tried, as it also doesn't contain any of the ingredients I avoid. I think this one might be my new favorite! It's has a great chewy texture, you can see and taste the real ingredients. It is fruity and not overly spiced with cinnamon- delicious! Perfect for morning snack on the go.
5
Bonnie
January 26, 2019
It's hard to say what's my favorite when all the bars are good! They are great to have at work when I don't have time to eat lunch yet but need something. It's hard not to eat too many in a day But I try to just use them at work or doing errands.
5
John
January 15, 2019
Very tasty and perfect for breakfast or a mid morning snack. They travel well, so they are in my carry on and with me in the car for road trips.
5
Christina
November 2, 2018
I absolutely love the taste and texture of this apple cinnamon bar! Such a delicious flavor! I will definitely be re-ordering.
5
Kate Erickson
September 25, 2018
My favorite bar I've tried so far! The flavor and texture is so good, you will feel like you are having a cheat day!
5
Monica Torrenegra
September 25, 2018
Found this product on a health store in Cape Cod Massachusets this July on my last vacation and have order it since then . It is a must have item in my purse. And always carry extras for my family. They absolutely love them. Best healthy snack ever... great for long waiting time at a doctors office appoinment, airport travel, road trips, beach, and outdoors. Great product, they keep producing delicious flavors. Thank you.! Monica.