Salted Caramel + Chocolate Chips Mini
Salted Caramel + Chocolate Chips Mini
GoMacro® MacroBar® Mini
The decadent flavor of vegan caramel mingles with a touch of sea salt and plenty of organic chocolate chips for a wholesome take on a timeless treat.

Get Same Day Delivery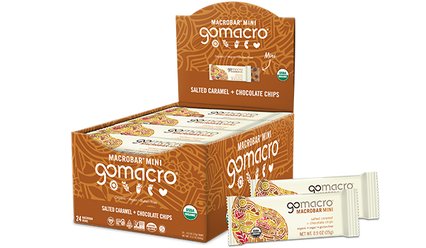 What's Inside
Dive into the rich, chewy goodness of our Salted Caramel + Chocolate Chips MacroBar® Mini. An organic mix of smooth almond butter and coconut milk blended with the warmth of maple sugar creates the classic gooey caramel taste you treasure with 4 grams of plant-based protein. To top it all off, we added a dash of sea salt and a generous sprinkle of vegan chocolate chips that will melt your worries away.
See Nutrition & Ingredients List
Benefits
100 Calories
Organic
Vegan
Gluten-Free
Kosher
Non-GMO
Clean
Soy-Free
Dairy-Free
Low FODMAP
Organic Chocolate Chips

Organic Almond Butter

Organic Maple Syrup

Organic Puffed Brown Rice
5
Sunshine
December 24, 2022
These bars are beyond amazing. I love the mini's because they are the perfect snacking size and taste wonderful with the carmel and chocolate chips.
5
Amy Wellman
October 16, 2022
So far I love all of the Gomacro products I have tried. However, the caramel chocolate chip are a step above all of the others. I would give them six stars. They taste like a $20 dessert at an expensive restaurant! These are the best protein bars I have ever had by far!!!!!
5
Taylor
July 11, 2022
Love these! Love the full sized ones for breakfast meal replacement - these minis are great for a sweet tooth fix! This one reminds me of chewy cookie dough. Love the simplistic ingredients as well. Will buy again.
4
Lauren
July 8, 2022
I think the Salted Caramel flavor has dethroned Oatmeal Chocolate Chip as my new go-to! I really like this new flavor (though I agree with another reviewer that more chocolate chips would be great). I switched from the full-size Go Macro bars to Aloha's Cookie Dough protein bars because they have far less sugar (5g) than Go Macro. But I enjoy Go Macro's flavor range, so I'm glad they offer the minis for a snack. I hope they come up with some full-sized bars that are lower in sugar. Even 5 g for such a small mini bar seems like a bit much.
5
ebony jayne lynch
May 1, 2022
Love the new flavor, great size when you don't feel like a whole bar!!
5
Sara Schadow
April 27, 2022
Loved the flavor and the moistness of the bar. This is now my favorite macro bar.
5
Christine
April 20, 2022
These are great for a quick, healthy snack. I like the salted caramel and chocolate chip combination but felt a few more chocolate chips would make this bar even better. This would be fantastic with oatmeal added in for extra chewiness! :0)