Salted Caramel + Chocolate Chips Mini
Salted Caramel + Chocolate Chips Mini
GoMacro MacroBar Mini
The decadent flavor of vegan caramel mingles with a touch of sea salt and plenty of organic chocolate chips for a wholesome take on a timeless treat.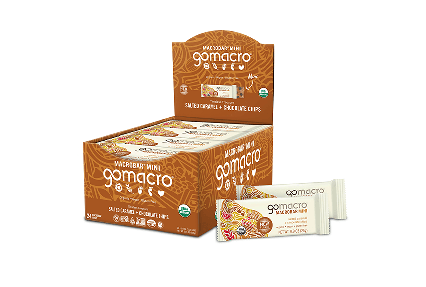 FREE SHIPPING ON ORDERS OVER $50
?

Get Same Day Delivery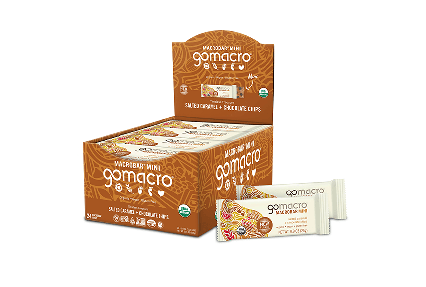 What's Inside
Dive into the rich, chewy goodness of our Salted Caramel + Chocolate Chips MacroBar Mini. An organic mix of smooth almond butter and coconut milk blended with the warmth of maple sugar creates the classic gooey caramel taste you treasure with 4g of plant-based protein. To top it all off, we added a dash of sea salt and generous sprinkle of vegan chocolate chips for a Timeless Treasure that will melt your worries away.
See Nutrition & Ingredients List
Benefits
100 Calories
Organic
Vegan
Gluten-Free
Kosher
Non-GMO
Clean
Soy-Free
Dairy-Free
Low FODMAP
​
Organic Chocolate Chips

Organic Almond Butter

Organic Maple Syrup

Organic Puffed Brown Rice
5
ebony jayne lynch
May 1, 2022
Love the new flavor, great size when you don't feel like a whole bar!!
5
Sara Schadow
April 27, 2022
Loved the flavor and the moistness of the bar. This is now my favorite macro bar.
5
Christine
April 20, 2022
These are great for a quick, healthy snack. I like the salted caramel and chocolate chip combination but felt a few more chocolate chips would make this bar even better. This would be fantastic with oatmeal added in for extra chewiness! :0)