Maple Sea Salt Mini
GoMacro MacroBar Mini
With a crave-worthy mix of sweet and salty ingredients, our Maple Sea Salt MacroBar Mini will remind you of a warm stack of pancakes, fresh off the griddle!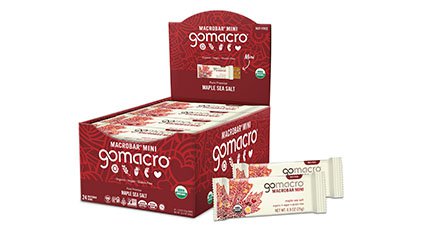 FREE SHIPPING ON ORDERS OVER $50
?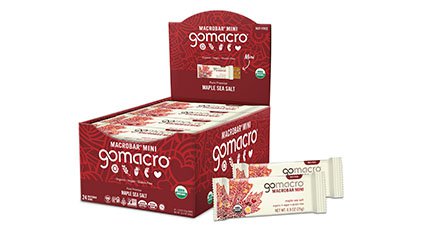 What's Inside
Enjoy a moment of pure promise with our Maple Sea Salt MacroBar Mini. The warmth of organic maple syrup is perfectly balanced with a dash of real sea salt, while a handful of pumpkin seeds adds a delicious flavor to this nut-free bar.
See Nutrition & Ingredients List
Benefits
100 Calories
Nut-Free
Organic
Vegan
Gluten-Free
Kosher
Non-GMO
Clean & Raw
Soy-Free
Dairy-Free
Low FODMAP
​
Organic Pumpkin Seeds

Organic Maple Syrup

Sea Salt
5
Janelle
March 5, 2021
This is my favorite flavor! The mini bars are the best!
5
Alysha
January 16, 2020
Maple Sea Salt is like eating a small piece of heaven! Can't get enough of them!!! I order the mini ones to have on hand for a quick little bite and I wind up eating like 5 at a time LOL Never discontinue this flavor! :)
5
Aussie Bob
December 17, 2019
I have been a loyal customer for years but the Maple Sea salt are spectacular !!! Best flavor ever !
5
Danielle T
December 17, 2019
This is my favorite GoMacro flavor!
5
Lauren M
August 11, 2019
Oh these are soooo good. I feel like I'm treating myself when I have one of these! I'm not even a huge maple flavor fan but wanted to try all the GoMacro bars so went for it and purchased a box of minis. And it turned out to be one of my favorite flavors! It almost has a caramel like quality to it. Sweet but not overly sweet, I can't stand too sweet foods and this is perfect. I also like the little pumpkin seeds in there :) The maple flavor is just right too. I've had maple flavor things that taste fake or over the top but this has a gentle, creamy, wholesome country maple flavor! Way to go GoMacro, this one's a winner!
5
Alyson Hyman
August 7, 2019
LOVE LOVE LOVE the new Maple Sea Salt!!! Pure bliss. And thanks for making it nut-free too. ;)