Lemon + Lemon Mini
GoMacro® MacroBar® Mini
A refreshingly sweet and tangy fusion of organic lemon, smooth cashew butter, and crispy puffed brown rice come together for a delicious, citrus-filled snack.

Get Same Day Delivery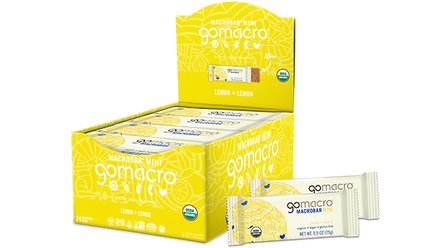 What's Inside
Like a glass of freshly squeezed lemonade on a sunny day, our Lemon + Lemon MacroBar® Mini is bursting with the brightness of organic lemon, crispy puffed brown rice, and rich organic cashew butter. Made with 4 grams of plant-based protein and a whole lot of sunshine, get ready for a snack that elevates your day... every day!
See Nutrition & Ingredients List
Benefits
100 Calories
Organic
Vegan
Gluten-Free
Kosher
Non-GMO
Clean
Soy-Free
Dairy-Free
Organic Cashews

Organic Puffed Brown Rice

Organic Lemon Juice Powder
1
Chelsea
December 17, 2022
Meh not my favorite-
4
Michele
March 24, 2022
A great change of flavor. I love lemon
5
Suzanne R
February 6, 2022
I love the Lemon flavor and the mini sized bars are perfect for long runs. I've eaten these before runs and on the run with no GI issues. The lemon works well as it's a lighter more refreshing flavor. I'm hoping they'll make an orange or pineapple or apple flavor next.
5
Alyson Hyman
January 26, 2022
My son loves these and I feel good about him eating them as a healthy snack. Now his friends are starting to ask me for them when they come to play!
5
Bonnie
June 23, 2021
I love just about anything lemon flavored & these lemon bars dont disappoint. Only one problem is I want to eat them more frequently than I should
3
Jocelyn
June 20, 2021
I will say these are good! BUT they are not refreshingly Lemon+Lemon good. I was expecting a bright pop of lemon. For me, the lemon is muted and lacks that zing I was expecting. I just wish the lemon flavor was at the forefront. I do like my 2.5 year old will munch on one and I feel confident in GoMacro's ingredients.