How to Ditch Toxic Clothing Chemicals & Create a Sustainable Wardrobe
Every second, the equivalent of one garbage truck of textiles is landfilled or burned. We know it's time to re-think our clothes and the materials they're made from—but the process can feel daunting. We wonder about the true impact of toxic chemicals on our health, time spent researching fashionable and functional natural clothing, and how to shift habits towards conscious purchasing decisions every day.
To make this process easier and shift us from thinking to doing, we've provided a cheat-sheet to go from toxic clothing to a plant-powered wardrobe. This includes why toxic chemicals are so harmful to our body and planet, the best sustainable materials, and eco-vetted brands who are carving a true path of change. As consumers it's on us to claim our purchasing power. Our intentional decisions strengthen the ecosystem of our bodies and world, and what we put on our bodies is just as important as what we put in it. While making the shift can feel overwhelming, it doesn't have to be. Let's dive into the world of toxic clothing chemicals, plant-based fibers, and the sustainable brands we can rely on as we shift towards a more sustainable future.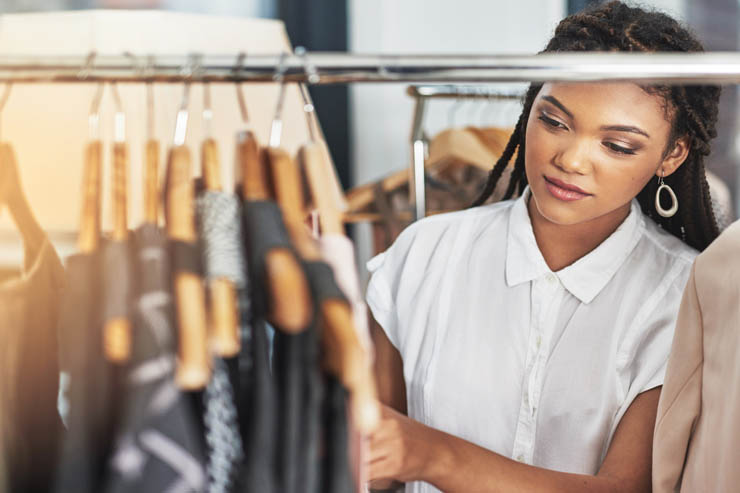 Toxic Chemicals
The chemicals in clothing are masked under labels like "wrinkle-resistant" and "performance fabric." These words indicate a high synthetic fiber content which suffocates skin. Synthetic fabrics can cause headaches and nausea, skin rashes and respiratory problems, and unnatural undergarments have even been said to cause infertility in men. Since the fashion industry doesn't have a governing body like the FDA to oversee industry practices, regulation of toxic chemicals can be difficult. There are 8,000 synthetic chemicals used in fashion and manufacturing. Most of these chemicals contain known carcinogens and hormone disruptors. This is important, because as these toxic chemicals make their way into our body through direct contact, the toxins can cause a host of issues like hormone imbalance and disrupt our ability to detox. Below are the most common chemicals found in clothing.
Cotton & Formaldehyde

Conventional cotton isn't great for our health. It accounts for 25% of insecticides worldwide and contains heavy metals and harsh chemicals. Formaldehyde is a known carcinogen and skin irritant found in clothing. Often, new clothing is covered in it to prevent wrinkling, parasites and mildew during shipping overseas. Stores like Victoria's Secret have faced multiple lawsuits for excessive formaldehyde levels found in their lingerie.
Flame retardants, ammonia and formaldehyde become problematic when sweating opens the pores and absorbs more of these chemicals. For this reason, we're especially susceptible to rashes from harsh chemicals used in making athletic clothing, underwear and socks.
"Forever Chemicals"
The toxic chemicals used to make clothing "Waterproof" "Stain Resistant" "Wrinkle Free" are coined "Forever Chemicals." They contain chemicals from a toxic class called per-and polyfluoroalkyl substances (PFAS). These "Forever Chemicals" can linger in the environment for thousands of years.
Phthalates
Phthalates make substances like plastic durable and flexible, and are often used while making t-shirts. One GreenPeace study claimed a "very high" concentration of phthalates were detected in clothing from well-known labels like Tommy Hillfigure and Armani.
Petrochemicals
Petrochemicals restrict toxin release from our body. As our skin works to keep us healthy by discharging up to 1 lb. of toxins a day, these synthetic materials can have an adverse impact by suffocating the skin. The following synthetic materials contain petrochemicals:
Nylon
Polyester
Acrylic
cetate
Triacetate
What To Do
Start a new habit of reading the tag of every clothing item you pick up or try on. Read it like the ingredients of a food label. Question where it comes from and if it's made from a sustainable material. Looking at the country of manufacture and material will give a base-level understanding about the sustainability level of the garment. Make the decision to swap out an item made from synthetic materials for organic fibers.
Making the Switch to Organic

As many of us make the move to becoming more environmentally aware in our everyday lives, part of this means making the move to environmentally friendly fashion choices. Practicing sustainability in a modern world comes down to micro-decisions, like where to buy a t-shirt from. Making the switch to organic isn't about going out and buying an entire new wardrobe, or stressing over the toxins in your favorite pair of leggings. Instead, when it comes to switching to a more sustainable closet, think small and slow. Focus on building a small and functional wardrobe that is forever in style.
Try This: Take a cue from Emma Watson, and before buying a new item, always ask "Will I wear this at least 30 times?" If the answer is no, don't get it.
Plant-Powered Fibers

Choosing natural materials allows the body to breath, detox and regulate temperature properly. Organic materials are naturally biodegradable and can be composted, compared to synthetic materials which don't break down and live in landfills for hundreds of years. Our favorite sustainable and plant-powered materials are:
Hemp
One of the most eco-friendly fibers, hemp material is made from fiber that makes up the hemp plant. It's drought-resistant and doesn't require pesticides or fertilizers. Hemp is a light and breathable fabric, similar to linen. It's hypo-allergenic and non-irritating to the skin, plus it's strong, durable and holds its shape.
Organic Cotton
Global Organic Textile Standard (GOTS) certified organic cotton guarantees clothing is free from toxic chemicals and pollutants. Organic cotton is free of pesticides, herbicides, GMOs, and dyed without harmful chemicals like chlorine bleach. Grown organically, cotton can save land biodiversity. Growing and harvesting organic cotton uses 71% less water and 62% less energy than conventional cotton. While it does take more water and soil depletion than other natural fibers, organic cotton is loved for it's low price, well-developed expertise and biodegradability.
Linen
Linen is the oldest known fiber and one of the most sustainable. Coming from the flax plant, it goes through a process called "retting" to separate the fibers and become an absorbent, breathable, strong material. Flax grows naturally and requires no additional water than rain water. Also, the whole flax plant can be used, leaving no waste. Cheers to one of the most biodegradable and stylish fabrics out there.
Tencel
Tencel is a semi-synthetic fiber made from cellulose extracted from (sustainably sourced) eucalyptus and tree pulp. Tencel is a type of rayon that is more resistant to wrinkling and has a natural drape. It's made from eucalyptus, a renewable resource, and used in a closed-loop process and requires fewer chemicals than other semi-synthetic fibers like modal. Tencel is a strong and absorbent fabric.
Becoming an Eco-Shopper
While the most earth-friendly option would be to stop shopping altogether, we're here for realistic solutions. When it comes to finding truly sustainable brands, it can be hard as a consumer to decipher which companies practice in action what they claim in words. The Good On You app provides ethical brand ratings for thousands of companies. This demystifies the process when it comes to learning what ethical brands are also sustainable, and to what extent. To simplify this process, here are some of our favorite sustainable brands whose practices are vetted and environmentally friendly in every step of the manufacturing process:
Underwear
Organic Basics This Denmark-based company offers eco-friendly quality underwear, activewear and essentials for men and women. They have the highest rating of "Great" from Good On You and are devoted to a continued focus on ethical production. Try: Go for the SilverTech Active Pack Sports Bra & Leggings when you're ready to swap out the old synthetic leggings and sports bra for an eco-friendly option.
Basics
For Days This zero-waste clothing company makes basics for people who crave a great product, simplicity, and less waste. They use the highest quality sustainable materials with a focus on fit. We love their SWAP program, which allows people to swap out their recyclable basics for "anything, any time, for any reason, for a great price." Everything sent back gets recycled, making this a "closed-loop" system. Try: The Weekender Dress to take you from pilates to park, farmers market to lunch, or wherever else your weekend takes you.
Know The Origin Sustainable fashion with nothing to hide. Charlotte started Know The Origin in 2015 with a commitment to transparency and transforming the fashion industry. She saw how lack of transparency led to abuses of human rights and environmental degradation worldwide and started KTO in response. They aim to show fashion can and should be done differently, respecting the supply chain from cotton farming to the final factory. Scored "Great" on Good On You app. Try: The Kata Black Dress made of 95% GOTS Certified fair trade organic cotton.
Jeans
MUD Jeans Is a Dutch circular denim brand. They've found a way to make a typically resource-heavy material, denim, energy efficient. MUD uses recycled cotton (ie no energy or water goes into growing it) and run their factories on renewable energy. Combined with carbon offsetting, they've achieved carbon neutrality. They received a top score of "Great" from Good On You. Try: The Fave Straight, a loose fitting jean made from post-consumer recycled cotton and organic cotton.
Shoes
Veja This French brand manufactures their GOTS organic cotton sneakers in Brazil. They pride themselves on transparency, organic materials and fair-trade sourcing. Try: The WATA Canvas Sneakers, meaning cotton in Japanese, is a casual and timeless unisex look.
Vintage
Buying vintage is the best way to attack the fashion waste problem. Support your local thrift shops, second-hand retailers, or online vintage shops like Boheme Goods to find earth friendly sustainable clothes.
Next Steps
Buying items with certifications like GOTS cotton, Cradle to Cradle and OEKO-TEX are the best ways to take action. While these certifications may be difficult to find, shopping from a trusted and vetted eco-friendly source (like the ones listed above) will ensure these certifications are already met. Have fun in the process of finding sustainable fibers. Remember the power is in small changes done consistently. Don't underestimate the impact of opting for an organic cotton t-shirt or Tencel dress over synthetic alternatives. Welcome your sustainable wardrobe one piece at a time, the next step in the plant-powered revolution.