Nourish Yourself Inside & Out with Organic Skin Care and an Organic Diet
Providing the cleanest products possible with high quality, organic ingredients that are good for you and the environment.
Most of us think about our health in terms of diet and exercise, taking care to put healthy foods into our bodies and get regular exercise. Of course that is key to a healthy lifestyle! But what about what you put ON your body with skin care products, cosmetics, shampoos, oils and perfumes? How do you nourish your body inside and out?
Your skin is your largest organ and is very permeable. Meaning that approximately 64% of everything you apply topically to your body goes through the skin into the blood stream and must be processed by your large organs, just as food and beverages, vitamins and medicines. It's a common misconception that what we put on our skin stays on it, but in reality our skin is a permeable tissue. Our organs end up processing everything we eat and what we apply to our skin. It's important to be conscious of this and choose organic whenever possible as a gift to your health. To give your body the best chance of optimal health, we need to nourish our body inside and out. We need to be conscious of everything we put in and on our bodies and at and be aware of the consequences our choices have in the big picture of our environment.
We were so thrilled to discover Balanced Guru organic skin care recently at ISPA 2014. We fell in love with their certified organic skin, body and hair products that share many of the same ingredients in our GoMacro MacroBars such as sesame oil, coconut oil and cocoa butter— all of which are USDA certified organic. Many of Balanced Guru's organic skin care products are also vegan like our MacroBars.
Both of our brands are family-owned businesses with strong values to provide the cleanest products possible with high quality ingredients that won't harm our customers or the environment. Both companies are advocating a lifelong journey of nourishment and health for all. Both brands are committed to a personal health and well-being that extends to the environment's health by creating products with only USDA certified organic products that are free of GMOs, and using sustainable packaging. Partnering with Balanced Guru is an extension of our commitment to health. Choosing an organic diet and cruelty free, plant-based products promotes balance within and without. Thank you for being a fan of GoMacro—we're so excited to introduce you to Balanced Guru.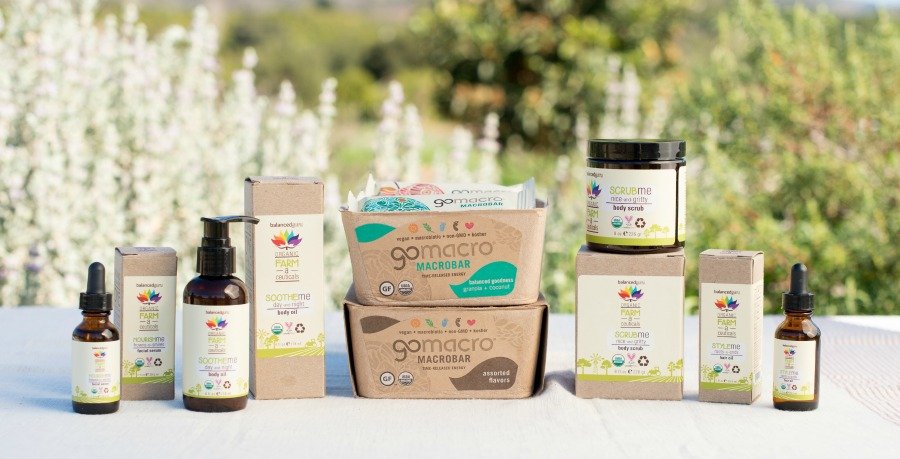 Check out our Facebook Giveaway (ends 1/30/15)
[Tweet "Nourish yourself inside & out with @GoMacro and @BalancedGuru organic skin, hair and body products. Learn more #ontheblog"]