GoMacro® Receives Certified R…
GoMacro® Receives Certified RAW™ and Certified CLEAN™ Status
GoMacro® Receives Certified RAW™ and Certified CLEAN™ Status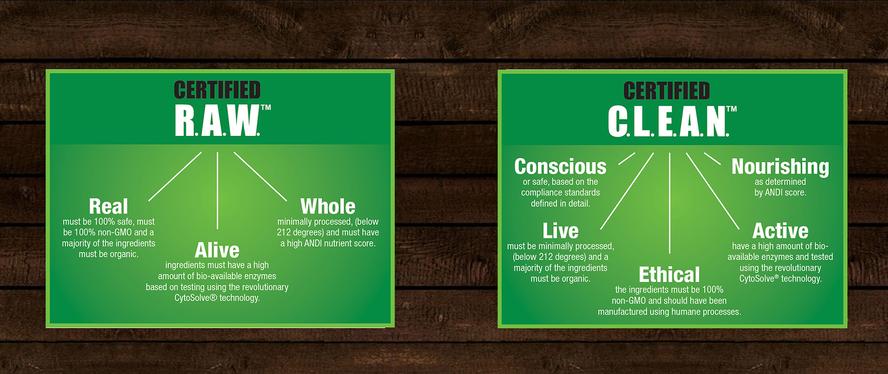 From the day that we created our first MacroBar, we've had one singular vision - to provide the cleanest nutrition bars possible, crafted from ingredients that are grown, not made. Over the years, our packaging has changed and we've grown in size, yet we have always strived to communicate the quality of every GoMacro product that leaves our hometown Wisconsin facility.
Our mission is to create healthy food using the highest-quality organic ingredients, sustainable farming techniques, and Equal Partner Program. We are committed to environmental responsibility on all levels, driven by our five founding principles: Macrobiotic, Vegan, Gives Back, Sourced Sustainably and Wholesome.
This mission has driven every decision we've made over the past 13 years, and it's why we are proud to announce that every product offered by GoMacro is now R.A.W. and C.L.E.A.N. certified. By providing products that are R.A.W. & C.L.E.A.N. certified, we hope to set a new gold standard for the quality and integrity of ingredients. The new certifications establish the first internationally recognized definition of what constitutes a "raw" and "clean" packaged food. They go well beyond the traditional "organic" and "non-GMO" classifications to encompass a deeper review of all ingredients. While a growing number of food manufacturers claim to use only natural ingredients, there has been no clear understanding or standard definition of what constitutes "raw" and "clean" food until now. So, what does all of this mean for the consumer? We've broken down each acronym below to give you a better idea of what you can expect from products that are R.A.W and/or C.L.E.A.N.  certified.
*It's important to note that a product can have one, or both of the certifications listed below, as they have several overlapping qualifications.
R.A.W
Real: All ingredients used are 100% safe, 100% non-GMO, and as a minimum requirement, the majority of the ingredients used must be organic.
Alive: Ingredients must have a high amount of bioavailable enzymes remaining in the finished product. This means that the majority of the ingredients are still alive after the final product has been made.
Whole: The product is processed minimally (below 212 degrees) and must have a high ANDI nutrient score.
C.L.E.A.N
Conscious: The ingredients used to create the product are safe, based on compliance standards. These standards include things like using products that are cruelty-free, Equal Partner Program, and following ethical manufacturing procedures such as fair labor practices etc.
Live: All of the ingredients used in any GoMacro product have been minimally processed, (below 212 degrees) and organically grown.
Ethical: All ingredients must be 100% non-GMO and humanely manufactured.
Active: All ingredients in any GoMacro product must have a high amount of bioavailable enzymes remaining within the finished product.
Nourishing: As determined by an ANDI Score.
To read more about the C.L.E.A.N and R.A.W certifications, please visit the Clean Food Certified website
.
Edited Aug 2021