Meet sweet rejuvenation: our cashew butter MacroBar
Rejuvenate with Cashews Here at GoMacro, we encourage all of our customers to Go Nuts, at least every now and again, with our sweet rejuvenation: cashew butter MacroBar. We know what you're thinking...nuts contain a lot of fat...which is why we want to introduce you to our good friend, the cashew. They have a lot less fat than other nuts and contain mostly healthy fats; their nutritional content is second only to almonds. And cashews contain zero cholesterol. That's right! Zero.
Cashews contain 5g of protein for every ounce, as well as 21% of your daily intake of magnesium, which protects against high blood pressure and works with calcium to promote strong bones. Plus no cholesterol means this nut is especially good for people with heart concerns.
While most Americans get enough fat in their diets, and many of us get too much, if you're on a strict health food diet you may be at risk for not having enough fat in your diet. Symptoms of not enough fat in your diet include feeling hungry, even when you've eaten; dry, old looking skin; poor body temperature regulation, always feeling cold; extreme mental fatigue; and an irregular menstrual cycle. If you have any of these symptoms you might want to get them checked out by your doctor or health care practitioner to test your body fat (BMI).
But if you're like most people, you're trying to get the right amount of healthy fat in your diet without gaining weight as a result. Cashews have 12 grams per ounce of fat, but they also have a 1:2:1 ratio of saturated, monounsaturated, and polyunsaturated fats, which scientists say is the ideal ratio for reducing cholesterol. Cashews are heart healthy because they're higher in monounsaturated fatty acids so they help to support healthy levels of low or "good" cholesterol (HDL).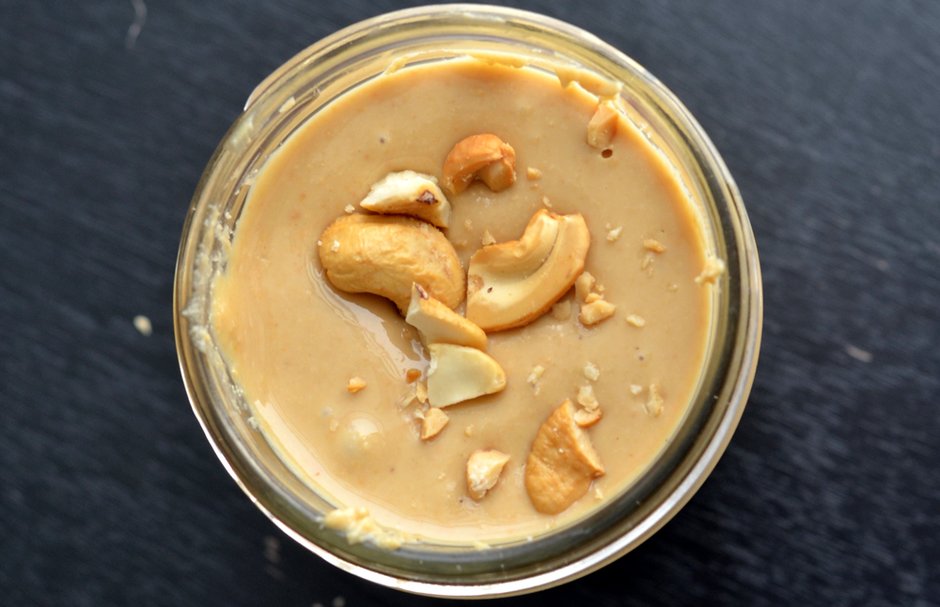 Cashew nuts are high in magnesium, 82.5 milligrams per ounce or a full 21% of the required daily allowance. Magnesium is great for your heart; it may protect against high blood pressure, muscle spasms, migraines, headaches, tension, soreness and fatigue. Magnesium also helps to build strong muscles and bones. Cashews also contain proanthocyanidins, which contain flavanols that may inhibit the ability of cancer cells to divide and multiply. Many studies have been done on the health benefits of cashews and results show a decreased risk of coronary heart disease, and women can decrease their risk of developing gallstones by 25% by eating an ounce or more of cashews a week.
So if you want to be a health nut, the best way to begin is by adding cashews to your diet. In a nutshell, try our sweet rejuvenation: cashew butter MacroBar. With just four ingredients this GoMacro MacroBar is a sweet rejuvenating combo of cashews, cashew butter, puffed brown rice and brown rice syrup. Learn more about sweet rejuvenation: cashew butter.
Vegans! Did you know that cashews can be used as a substitute for dairy products? Try Amelia's cashew cream -- a decadent vegan delight.
AMELIA'S CASHEW CREAM RECIPE   1 cup whole raw cashews 1/4 cup maple sugar 1/2 teaspoon vanilla extract 2/3 cup coconut oil warmed until liquid
Put the cashews in a bowl. Cover with water, refrigerate and let soak overnight. Drain and rinse cashews. Place in a blender and add water until it just covers the cashews. Blend on high for several minutes until completely smooth. Add the maple syrup and vanilla extract. Blend until thoroughly combined. With the blender running, slowly drizzle in the coconut oil and blend until emulsified. This makes a great cream to pour over desserts and fruit.
Resources: https://foodfacts.mercola.com/cashews.html http://www.mdpi.com/2072-6643/2/7/652/htm - Health Benefits of Nut Consumption http://www.self.com/flash/diet-blog/2012/05/4-signs-that-you-dont-have-eno/ http://organiccashewnuts.com/health/